We are launching the Ukraine War Archive website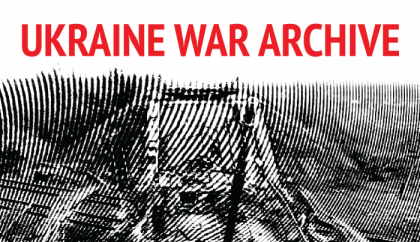 Our team is launching
the website of the Ukraine War Archive initiative
. It will help us upload materials in a more convenient way and share information about the project. Access to the Archive itself will be available later upon request.
23 June 2022
We continue collecting video and audio evidence of war. Our team collects, verifies, categorises and systematises large volumes of video footage so that evidence of crimes is not lost in information streams and is available for fighting in the media, cultural, and legal fields.
NGO Docudays has a network of regional partners and film club managers all over Ukraine who can collect and provide evidence even from the cities which are currently under temporary occupation. In documenting the crimes, we are working together with CO Charity and Health Fund, VGORU Media Platform, Ukrainian Helsinki Human Rights Union. "In order to document as comprehensive and as accurate a picture as possible, to collect evidence of war crimes, we need to consolidate and work together. The War Archive aims to combine the efforts of those who work on the side of truth, justice, and protecting Ukraine's interests," says Maria Buchelnikova, Project Coordinator for the Ukraine War Archive.
The War Archive is a big database for which we have developed our own video verification, tagging and data description system in order to categorise the footage. Maksym Demydenko, Head of Data Collection and Research for the project, explains: "When you upload a video, the system automatically makes its backup copy and converts the file into a convenient format for viewing. Our tagging team watches the video and adds keywords and specially developed tags which allow us to categorise the war events and record war crimes. This is important, in particular, in order to let human rights advocates use the Archive. Now we are working on additional platform tools such as automatic transcription, news and message aggregation, etc."
Another important part of the Archive will also be interviews with witnesses of war crimes and events. Roman Bondarchuk, Project Manager and Docudays UA Art Director, says: "Our team follows the chronology of the key events of the war day after day, working on adding evidence about them to the Archive. If there isn't enough video evidence of the event, we look for witnesses and interview them. The methodology for these interviews was developed in cooperation with human rights defenders, psychologists and lawyers, so they will also work as evidence in court."
Share information about the project and its website so that more people can join the collection of materials that testify to Russia's crimes against Ukraine.

The Ukrainian War Archive project has been created with the support of ISAR Ednannia as a part of the Urgent EU Support for Civil Society project, with financial support from the European Union, as well as the Sectoral Support for Civil Society Initiative, implemented by ICAP Ednannia in consortium with the Ukrainian Center for Independent Political Research (UCIPR) and the Center for Democracy and Rule of Law (CEDEM) thanks to the sincere support of the American people provided through USAID.
All news
If you wish to use the film-collection of Docudays UA International Human Rights Film Festival, we invite you to join the network of permanent Docudays UA educational film clubs on human rights