THE CHAMBER ATMOSPHERE, THE SYSTEM AND THE DIALOGUE WITH AUDIENCE. DOCUDAYS UA CINEMA CLUB AT THE MARIUPOL HISTORICAL LIBRARY.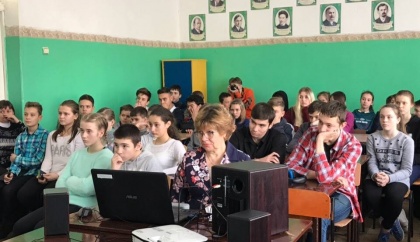 Each film club has its own unique features. We met and spoke with the staff of the Mariupol City Historical Library named after M. M. Hrushevsky. Natalia Koroblyova, director of the library, as well as her colleagues Kiryushkina Natalia, Talita Sayenko and Bereshchenko Dina spoke about the peculiarities of their work.
27 August 2019
Creation of a film club
When we learned about the possibility of creating a film club, we thought it was a necessary and useful thing. By that time, we already had strong links with teachers of history and law, with schools in the Seaside region. Moreover, it was then that a young employee of Talita Sayenko came to us, who wanted to do screenings. It is extremely important to determine who will take responsibility for the process. We tried and didn't regret it. It has now been three years for our film club. In addition to the film club, we also have an International Literary Club, an Embroidery Club, a Psychological Club and a Golden Age Club, which are attended by third-year university students. In the process, all these audiences intersect in one way or another.
Engage with your audience
We work closely with schools, invite them to film club meetings, discuss details to make it interesting and relevant to them. We make a poster so that the children can see where they are going and it was no surprise to them. For discussion, we invite psychology, our associate, who just graduated from the institute and also leads a psychological club. In addition, we often invite a lawyer, criminal service representatives, and other experts to ask questions after the movies. In general, if the tape is interesting to children, they are easily included in the conversation. We have been working with this audience for three years, and they already have a certain level of activity.
We noticed that the viewer (s) of any age is a very close topic of ecology, probably because it is relevant to our city. And adolescents have many issues specific to their age, confounding family-related issues. For example, children respond keenly and vividly to films featuring characters and heroines of their age, such as "Lizo, Walk Home" or "Difficult." Someone said that he was also experiencing something similar, and it seemed the end of the world, but then it turned out that these sufferings are not unique, there is a solution, everything is solved. Discussing suicidal ideation is also part of their interest. This age is very complicated, everything is divided into black and white, without shades.
We also cooperate with student (s) and the Third Age University. The plans include cooperation with the Donetsk Law Institute. However, we are still thinking how best to get in touch with them and fit into their schedule. In general, there are many plans: children grow up, they are replaced by others. In any case, the students who have just graduated from grade 9 have left us quite aware. As we partnered with the Polis program, the police came to our discussions and wondered that the children's audience was active, uninhibited, and asked such questions that made them think.
Process details and uniqueness of the film club
Impressions are serious work. First of all, preparation to keep the discussion level, help the viewer (s) to understand certain accents, values. We do not have any sharp points or conflicts during the discussions. You can always come to a consensus. At the same time, it should be remembered that all the tapes are extremely different, the audience is better thought out individually. For example, the movie "Vote for Me Please" was a very interesting movie for Third Age University. They remembered their lives, emotionally and vigorously discussing.
We always evaluate how the show happened, try new things on the results, analyze what could be improved, refuse something. This process is constantly in development. Our team has young employees who are well trained and catch everything fast.
We take care of our facilities, which can accommodate up to 30 people. So our impressions are chamber, built primarily on trust and long-lasting relationships. Children and students feel comfortable in such a situation, open up, communicate. Our atmosphere contributes to this.
Highlights and tasks
The main thing in this case - systematic. We educate readers and readers. The children grow up, the student (s) come, and then they come in pairs with trolleys. The need for a book, the need for communication about interests at cultural events is important, it needs to be nurtured.
Movie clubs are necessary for us to expand our horizons, learn new things, learn to deal with problems, express our opinions. Children should not be afraid to share their position, so that there is no situation "my house is an end." They are interesting now, more relaxed, but still difficult to open. Our task is to push them to the right path, to develop their abilities without breaking their own borders.
Main photo - from the archive of Mariupol City Historical Library. M. Hrushevsky.
All news
If you wish to use the film-collection of Docudays UA International Human Rights Film Festival, we invite you to join the network of permanent Docudays UA educational film clubs on human rights