ACTIVISM AND HUMAN RIGHTS DEFENSE IN CHERNIVTSI: "A SYRIAN LOVE STORY" SCREENING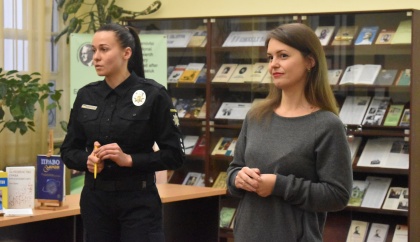 The screening of the film from the 5th collection directed by Sean McAllister and the following discussion were held at Docudays UA film club at Chernivtsi Regional Universal Scientific Library within the framework of All-Ukrainian Campaign "16 Days Against Violence". Galyna Dobtovolska, DOCU/CLUB moderator gives some details on who arrived at the screening, discussion topic and what invited experts have shared with the audience.
29 November 2019
Diverse student audience attended DOCU/CLUB on November 26 at the Information Technology and Electronic Resources Department of the Library. Among the audience were students from Chernivtsi Law Institute, Yuriy Fedkovych Chernivtsi National University, Chernivtsi National University. Y. Fedkovich (specialization "Political Science"), as well as Chernivtsi Regional College of Arts named after S.Vorobekevich (specialization "Library, Archival, and Information Studies")
"A Syrian Love Story", a story about the political movement through the lens of close relationships was selected for discussing the meaning and purpose of human rights activism. Amer and Ragda participate in anti-government protests and have first met in prison. British filmmaker Sean McAllister has been following the story of a Syrian couple of Damascus activists and their difficult path to freedom for five years. During this time the director even became a prisoner and felt what the attitude to human beings in the prison system is like.
Before the screening, the audience jointly outlined the concept of "human rights activist", the range of activities, and tried to identify the risks of their work. The experts joined the discussion and emphasized a few issues. In particular, Halyna Pshenychko, Bukovyna Justice system representative, spoke about human rights and counteracting domestic violence, as well as about the human rights mechanisms that currently available in Ukraine.
Taras Lazaruk, an employee of the Regional Center for Free Secondary Legal Aid in Chernivtsi Oblast, described how to get legal aid in their organization. Finally, Tetiana Bilokurenko, senior lieutenant and inspector of the Juvenile Prevention of the Shevchenko Police Department, called to report the cases of violence and to seek assistance from the police.
After the screening the students shared their impressions and thoughts, stating that: ".. it has brought up exciting emotions that make one reflect once again what freedom is and how important democracy is," "...the film depicts the truth and true love to motherland, the characters are ready to sacrifice their lives for their rights and freedoms "," .. the child who at such young age wants to change the government to return home impressed me."
Text: Galyna Dobtovolska, DOCU/CLUB moderator at Chernivtsi Regional Universal Scientific Library named after M. Ivasyuk.
Photo: from the blog of Chernivtsi Regional Universal Scientific Library named after M. Ivasyuk.
All news
If you wish to use the film-collection of Docudays UA International Human Rights Film Festival, we invite you to join the network of permanent Docudays UA educational film clubs on human rights