DOCUDAYS UA SEMINARS FOR FILM CLUBS' MODERATORS: AWAY FROM BORING THEORY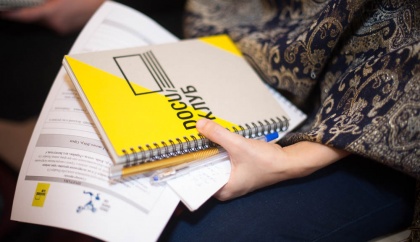 Docudays UA started series of seminars for moderators and heads of festival film clubs network to prove that human rights education can be interesting, interactive, very practical - all of this in a film screening.
15 February 2016
Poor education in human rights is typical for Ukraine. Most of us think of it as of something official, distant and boring. Docudays UA started series of seminars for moderators and heads of festival film clubs network to prove that human rights education can be interesting, interactive, very practical - all of this in a film screening. We talked about peculiarities of such education and practical use of this knowledge with trainer, education coordinator at UHHRU (Ukrainian Helsinki Human Rights Union) in formal education, NGO "MART" member Oleksndr Voytenko.
You've been working in human rights for a while now. What is your personal motivation for such activity?
Problems of nondiscrimination, civic society, democracy and tolerance have always motivated me. I came to conclusion that human rights provide real mechanisms of inflluence, where we talk not only about values, but also about specific defence mechanism. I can keep convincing a person that it's good to be tolerant, but this can change a person and has a very slow impact on the situation. When we teach human rights, we can see results after several months, when initiatives emerge. Opportunity for educational activity in human rights is really cool. Especially the fact that it's an informal education, it is perceived as such and more effective because of that.
Human rights education through documentary films is an informal education. How effective is this method in your opinion?
The youth as our target group is a generation that reacts at video and image, not text. It's difficult to encourage young people to read, but they are ready to talk, komment and discuss something that they saw. That's why I think that cinema is one of the most powerful influence instruments.
We work with emotions, invite people to the situation of empathy, whether it is a main chrachter or an event, we include people momentarily, move away from boring theory and give real life examples, even though they are only similar to our lives and take place in other country. When we invite a person into process of reflection on empathy, it's easy to start a dialogue. Most of our films are directly or indirectly connected to human rights, so the talk after film goes quite natural.
Plain screening doesn't have such effect. Sometimes people see real people as charachters, but do not see human rights' problems behind the story, don't recognize instruments of influence on the situation and on government that we can offer during discussion.
Is the audience of Docudays UA moderators any different from the rest of, so to say, students you teach during seminars?
Human rights are new topic for Ukrainian audience, and until recent time was regarded as something rather theoretical than practical. In most cases if we don't speak of human rights' activists, we always have a situation where we start working from scratch and face the problem of explaining to people that human rights is a value, and this value is protected by law.
In this case participants of our seminars from Docudays UA are no different from others. They are motivated by documentary films that hardly can leave anyone indifferent, but they lack knowledge and understanding what to do with it. Raising the problem and focusing at it is one thing, but understanding the ways of solving it in real life is quite different. I think it's here that your audience can be more interesting, they give the ability to talk, answering the request. If there is no motivation to educate yourself in human rights, there is motivation to sort out the problem field; during the seminar they start understanding that human rights are not a theory, but something that concerns them directly. After that it's just a question of skill, of method - switching from understanding human rights to understanding how they can be used in work with a film, how they can awake similar motivation in those who came to the screening.
There is a lot of human rights initiatives and projects in Ukraine today. Do you think we can talk about quality changes and raising levels of people's awareness in their rights?
I can tell you about changes in conscience of the organisers of educational events in this field as well as in minds of their target audience. I find Docudays UA idea attractive because it's not just a festival, but a complex educational project. I can see that during the years of festival's existence they have formed their own sistematic approach to work. For example, regional coordinators of screenings during the Travelling festival, who had several levels of training, already have their own view on organization of screenings in their specific region, select films, consider relevance of the topic for their region and for the group of their regular viewers. Another moment is that most people who attended a well-moderated screening become regular viewers and apply to the Human rights school; they want to know more, start to understand that something depends on them and want to become a part of the process of changes. We offer systematic education to them on a different, deeper level. This is the approach that makes a change.
But concrete influence cannot be traced directly. For example, tragic events of the last years have brought our graduates to Maidan - Vostok-SOS, Crimea SOS, Euromaidan SOS - in most cases, if the initiatives weren't founded by our graduates, they came there and found themselves in them. I can say the same thing about Docudays UA. From our screening experience in Lviv, Poltava and other cities I know that active members of film clubs, moderators or those who attended our trainings find connections at legal receptions, human rights organizations and law departments, join the work, make publications, and the mass media begin to notice them. Even if not everything after that is connected to the festival or our studying, we definitely have influence on the situation and on level of awareness in human rights in big cities as well as in the regions.
Photo by Natalka Dyachenko.
All news
If you wish to use the film-collection of Docudays UA International Human Rights Film Festival, we invite you to join the network of permanent Docudays UA educational film clubs on human rights