MAIDAN, THE WAR, AND KHERSON REGION IN THE FILMS BY ROMAN BONDARCHUK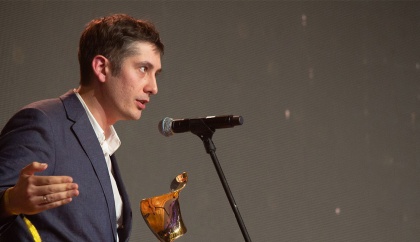 For us, Kherson residents, director Roman Bondarchuk is not only the author of many documentaries and fiction films that have been awarded at national and international film festivals, a Shevchenko Prize winner, and the art director of the Docudays UA International Human Rights Documentary Film Festival. First of all, he is our fellow resident of Kherson. It is no surprise that in his work Roman often returns to his roots, making films about Kherson region and in Kherson region (in particular, the documentaries "Ukrainian Sheriffs" and "Dixieland" and the fiction films "Volcano" and "Editorial").
Reprinted from the Vhoru Media Platform.

31 October 2023
We couldn't help but join the online meeting with the filmmaker organized by the DOCU/CLUB documentary film club network, especially since the Vhoru Media Platform became the media partner of the broadcast. Obviously, there were a lot of interesting questions and equally interesting answers.
ON CHANGES OF THE DOCUMENTARY FILMMAKING IN UKRAINE
I remember the times when documentaries about Ukraine that could be included in the festival program were made by foreigners. But the approach they took to our life was "touristy." One of my friends worked as a fixer for a German filming crew. A fixer is a person who solves all administrative issues, finds characters and protagonists, and negotiates with them for permission to film. She showed me a script where five drunken sailors with a balalaika were supposed to walk down the street and sing something like "Kalinka-Malinka." The action took place somewhere in Vinnytsia, where there is no sea and, accordingly, no sailors. When we suggested that the filming crew come up with something else, they said, "No, no, we have a big TV channel, it's very difficult to re-approve the script, and this one has been approved, so find us five sailors." We had to negotiate with some villagers, dress them in vestments, color the water to make it look like moonshine, and have them sing "Kalinka-Malinka." Such films were made about Ukraine and Ukrainians, because foreigners did not really distinguish us from Russia and somehow reinforced their stereotypes.
In our festival program, the first full-length film that reflected reality appeared in 2012. It was "The Other Chelsea," directed by the German Jakob Preuss. This is a film about the secretary of the Donetsk City Council, a man of the Yanukovych era, who led a luxurious lifestyle, rode motorcycles around Donetsk, went to the hairdresser and nail salon during working hours, happily shared this and told the director how good his life was. Opening the festival with this film was actually a very brave step for the director and for us, because in 2012, freedom of speech and other freedoms were not yet the same as after the Maidan. At our opening, there were a lot of people in civilian clothes documenting and recording everything, and the atmosphere was quite ominous. But it seems to me that we somehow managed to overcome the fear, and the journalists who attended the opening wrote about "The Other Chelsea." I hope that, with this unveiling, we at least helped to make this official a meme at the time.
Another such "touristy" film in 2015 was "The DNR, or the Curious Tale of the Handmade Country" about DNR separatists. By that time, we already had award-winning Ukrainian films, and the subjectivity of the Ukrainian view was actively being formed. However, this was the only film that could show separatism from the inside, and that's why we chose it as our opening film.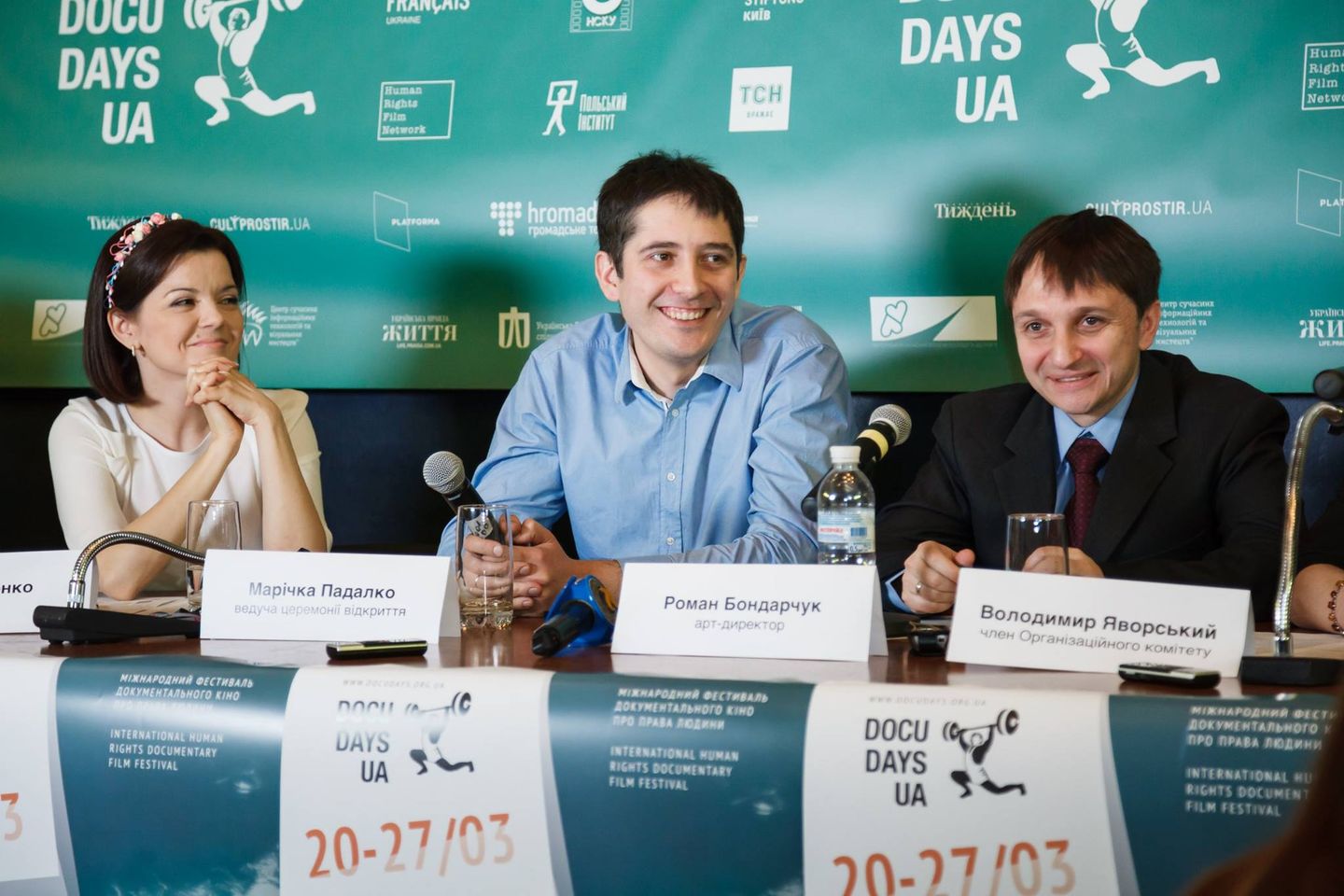 Photo: Press conference of the Docudays UA International Human Rights Documentary Film Festival
Starting from 2015, Ukrainian films made by our directors dominated. Foreign films were no longer opening the festival or becoming notable in any way. In 2013, we screened "Sirs and Misters" by Oleksandr Techynskyi, a rather ironic, tragicomic film about the celebration of the Jewish New Year in Uman and a pilgrimage to the grave of a tzaddik, where both visitors and locals demonstrate different behaviors. I think it's still more like a comedy than a drama, but at the time it was a very expressive and memorable film.
Of course, the turning point was the Maidan. It was an event where absolutely everyone who had a camera was filming, and a lot of it was broadcast live. I know a lot of people who'd been filming there for almost the entire three months, but then just couldn't do anything with the material. Other people managed to make quite accurate and impressive films. The Maidan became a moment when everyone who could film went to document it. Everyone tried to make their own film, and at that time, many directors and entire associations were born, like Babylon'13. After 2014, Ukrainian films regularly won awards and appeared on major international platforms, reflecting on this revolution, the invasion in eastern Ukraine, and some post-traumatic disorders of Ukrainians. This wave, which began in 2013-2014, continues to this day.
I do not believe that we have a particularly strong school of documentary filmmaking. It seems to me that everyone who is engaged in filmmaking is performing a personal feat, because it is almost impossible to be in this profession, to survive in it, and it always happens against all odds. As a festival, we, of course, foster critical thinking and artistic taste. The films submitted to us are quite often objects of art that have a very strong author's view of this reality.
ON THE ARTISTIC COMPONENT IN DOCUMENTARIES
Cinema is an artistic product, although it is not the right word for art. If there is an author, then it is already a work of art. The author looked at events and reality in a certain way, then structured them into a composition, built his or her narrative, and did it in his or her own unique way. I don't think that Mstyslav Chernov, while making "20 Days in Mariupol," dedicated a lot of thinking to the look of the film or the shot composition. I think he documented what he saw and then turned it into a movie on the editing table. And, for example, Roman Lyubyi, who made the film "Iron Butterflies" about the downed Boeing MH-17, even managed to weave plastic theater into the film's narrative: there are shots where dancers express this tragedy through dance. So there is the author, there is the work, and there is the movie.
ON THE FILM "EUROMAIDAN. ROUGH CUT" (2014) – THE FIRST FEATURE-LENGTH DOCUMENTARY ABOUT THE EVENTS OF THE REVOLUTION OF DIGNITY
It all started when the Docudays festival finally rented an office. With the beginning of the Maidan, many foreign companies fled Kyiv, and there were a lot of unoccupied premises rented out at a very low price. So we found an apartment 50 meters from the Maidan, on Mala Zhytomyrska Street. We moved in when the Maidan was still standing, after the students had been beaten, but the protest was still peaceful. We didn't have any furniture, so we brought some cots, futons, sleeping bags, and dishes. Numerous journalists and filmmakers from different countries called us and asked if they could stay somewhere to see what was really going on. We told them they could stay on the floor of our new office. So it turned into a hub, where journalists and reporters were always hanging out, and sometimes protesters or friends of friends would come in for tea, warm up, and leave again. Many of my colleagues were uploading the material and editing it on their laptops in the corners of the office. It was very active for three months, and then the Maidan prevailed.
There were a couple of weeks left before the festival, and we didn't know if we would have time to prepare for it. There was so much energy, so much desire to throw out all this experience and emotions that everyone had gone through. I, Dariya Averchenko, and Yuliya Serdyukova decided to collect some footage from people who were somehow involved in the office, whom we knew, or whom we met on the square itself, so that they could share with us one or two episodes of footage that they considered successful. Colleagues sent their footage, and I watched them in the office, sometimes cutting them. We thought about the sequence and the intertitles between these episodes. The idea was to make it as simple as possible. Everyone realized that this was not the end. It was not clear what would happen next to Crimea and to the east of the country. These were moments of euphoria after Yanukovych's escape. We decided to name the film "Euromaidan. Rough Cut" because we realized that it could still take other forms and be edited later. We screened this film straight from the editing program, without even having the opportunity to watch it ourselves and make sure that everything is being played correctly. We just assembled everything, put it together, and screened it. The ceremony was hosted by Natalka Humeniuk, and Mariana Sadovska sang "Plyve Kacha" at the final credits. The audience gave a standing ovation, and it was an extremely powerful moment of unity for everyone present.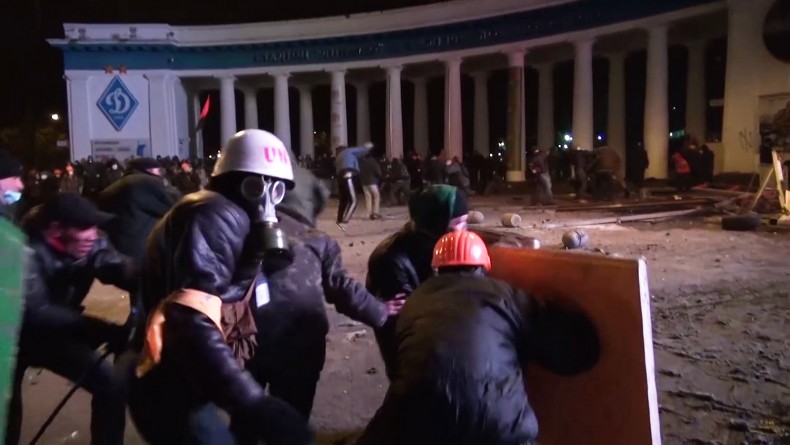 Photo: A still from the documentary "Euromaidan. Rough Cut."
For me, it was probably the most important premiere in my life, even though it is a collective film, since many authors worked on it. Most of these authors later made their own shorter or longer films. "Euromaidan. Rough Cut" traveled a lot around the world, telling foreigners about what we actually experienced, what it looked like from the inside. It also gave us the opportunity to speak out, to confront Russian propaganda and explain what was happening here.
I still carry this material with me. I plan to make a film out of it, but I don't know yet whether it will be a only about Maidan or about some more general rhymes of our history. But, of course, this is a fantastic experience, one of the most important in my life, and I will definitely make something out of it.
ON "UKRAINIAN SHERIFFS" (2015) - A DOCUMENTARY ABOUT TWO RESIDENTS OF AN OLD VILLAGE IN THE KHERSON REGION WHO VOLUNTARILY TOOK ON THE FUNCTIONS OF LAW ENFORCEMENT
"Ukrainian Sheriffs" took three and a half years to make - from the first meeting and idea to editing and premiere. I first met the head of the village, Viktor Marunyak, and made a short film about him. He was defending the land of Stara Zburyivka from local officials who wanted to resell it and get rich on it. In order to prevent him from stealing the land, they arrested him under some fictitious pretext. The entire community of Stara Zburyivka stood up to defend the head of the village, and they managed to get him out of the detention center. We started with this short film about the history of the village head, and then he told me that he also had two sheriffs. And I thought: oh, sheriffs are something unusual for the Kherson region. I wanted to meet them.
They immediately impressed me with their yellow car and the posture of two movie characters. Dasha, the producer of the movie, and I joked that Viktor Hryhorovych looked like Chuck Norris, and his partner Volodya looked like Tony Soprano. I asked them to show us what they do. They drove us around the village, showed us their "clients" – mostly homeless or drunken, disadvantaged people. But they communicated with them so easily that I thought: oh, this movie can be made in a month, now we will tell the whole world about sheriffs and an interesting initiative that helped improve the situation with public order in a remote village. It was so easy and ironic. We thought it would be a documentary comedy. And then we got deeper and deeper into it...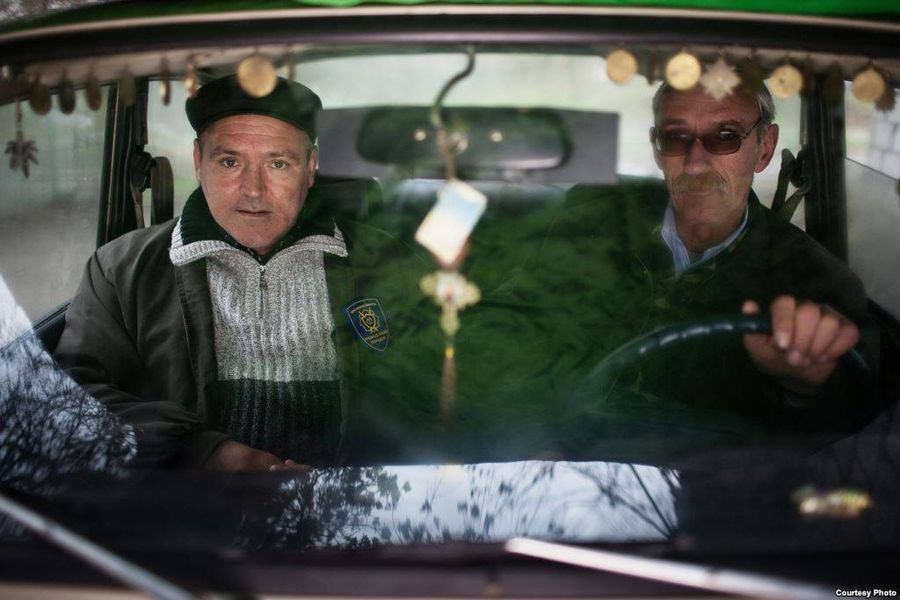 Photo: A scene from Roman Bondarchuk's documentary "Ukrainian Sheriffs"
The sheriffs thought the film won't be good if the process was taking so long. They were tired of giving interviews and telling stories, they tried to go outside without a camera, just leaving the village council through the back door. And then they would tell me: there was a scene, a family conflict, we were fighting a man and a woman. Very tediously, I convinced them that it should be filmed and shown. I ended up jumping into the car with them without permission. Finally, they saw the advantage of walking around with the camera: a cameraman behind their backs gave them more authority and legitimacy. So we gradually realized that they needed us, and we needed them. We already knew their "clients", we knew the villagers, we knew the relationships between them, and we had something to talk about. Gradually, me, Dariya Averchenko and Borya Peter became the villagers of Stara Zburyivka, and the sheriffs became the characters in the movie.
The impact of this film, of course, could not have been foreseen. The plan was to show the life of a southern Ukrainian village, which is essentially deprived of access to the police. We wanted to tell about an example of self-organization, but it turned out to be something deeper. The Maidan began, then the annexation of Crimea, then the war in the east, and the sheriffs acquired more chores and responsibilities: they delivered summonses, buried people, and dug graves. All this reality also appeared in the film, and it became a document of the beginning of the war. Later, it was included in the manuals for the reform of the National Police and shown to new police officers as a visual aid to how law and order works in small communities and how to work with it and prevent violations. Then came the Sheriffs for New Communities program, which encouraged people to become sheriffs. Officially, the position was called "public assistant district inspector" for some time, but they were all called sheriffs unofficially, and if a person had certain skills, he or she could even get paid for it. That is, the film had a great impact even after it was released.
ON THE FATE OF THE FILM'S CHARACTERS
Today, Stara Zburyivka is occupied, and Viktor Marunyak stayed in the village after the full-scale invasion. The Russians passed through the village because they thought they were going to take over the entire south in a swoop, but they were stopped before Mykolaiv. And there was quite a long period when the village was occupied, but there were no Russians there. The sheriffs still had to live and somehow support the residents. Last fall, I made an interview film about this period called "Viktor Marunyak. Paradise Lost." In it, Viktor tells how fishermen brought fish to the village square, and people would take it home to survive. Those who had more vegetables shared them with those who had no food supplies. There was almost a month when there were no Russians, but no representatives of our government either. And then Marunyak was kidnapped twice, beaten, tortured, taken to Kherson, kept in a pre-trial detention center, and after a while released with an obligation not to leave the village. Then he realized that he had to escape, and he and his wife left.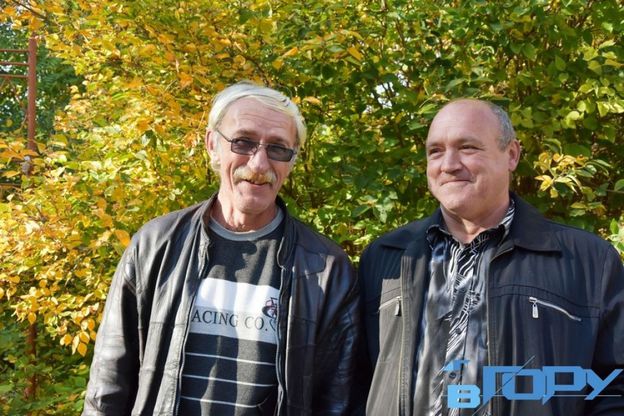 Photo: Characters of "Ukrainian Sheriffs", Viktor Kryvoborodko and Volodymyr Rudkovskyi
I haven't talked to Viktor Hryhorovych for some time. He had a very complicated life since the occupation, because his house was actually destroyed. Russians were looking for him because he was in in the ATO, and somehow they knew that he was an assistant district police officer and a sheriff. Hryhorovych hid on the cemetery for a long time until he was able to get through their checkpoints to the Ukrainian government-controlled territory. He let his beard grow, found a cane, pretended to be an old, frail man, and distracted their attention so they didn't recognize him.
It's harder to keep in touch with him now, because he is constantly on the move, but we have a common experience, and usually, after such a long time together, you remain friends.
ON BALANCING BETWEEN DOCUMENTARY AND FICTION FILMS
I had this transition from "Ukrainian Sheriffs" to "Volcano." Essentially, a lot of the stories I heard while working on "Ukrainian Sheriffs" went into my notebook and could then be used to write a script for a feature film. Documentary filmmaking is always an accumulation of so many stories, because you shoot for years, and you edit one percent or even less of what you have filmed. The knowledge about this region, these people, this place overwhelms you, and you can write fiction scripts afterwards. And after the fiction scripts, you can shoot a documentary again to learn something more about this reality. These are different methods: sometimes you receive something, and sometimes you give something back.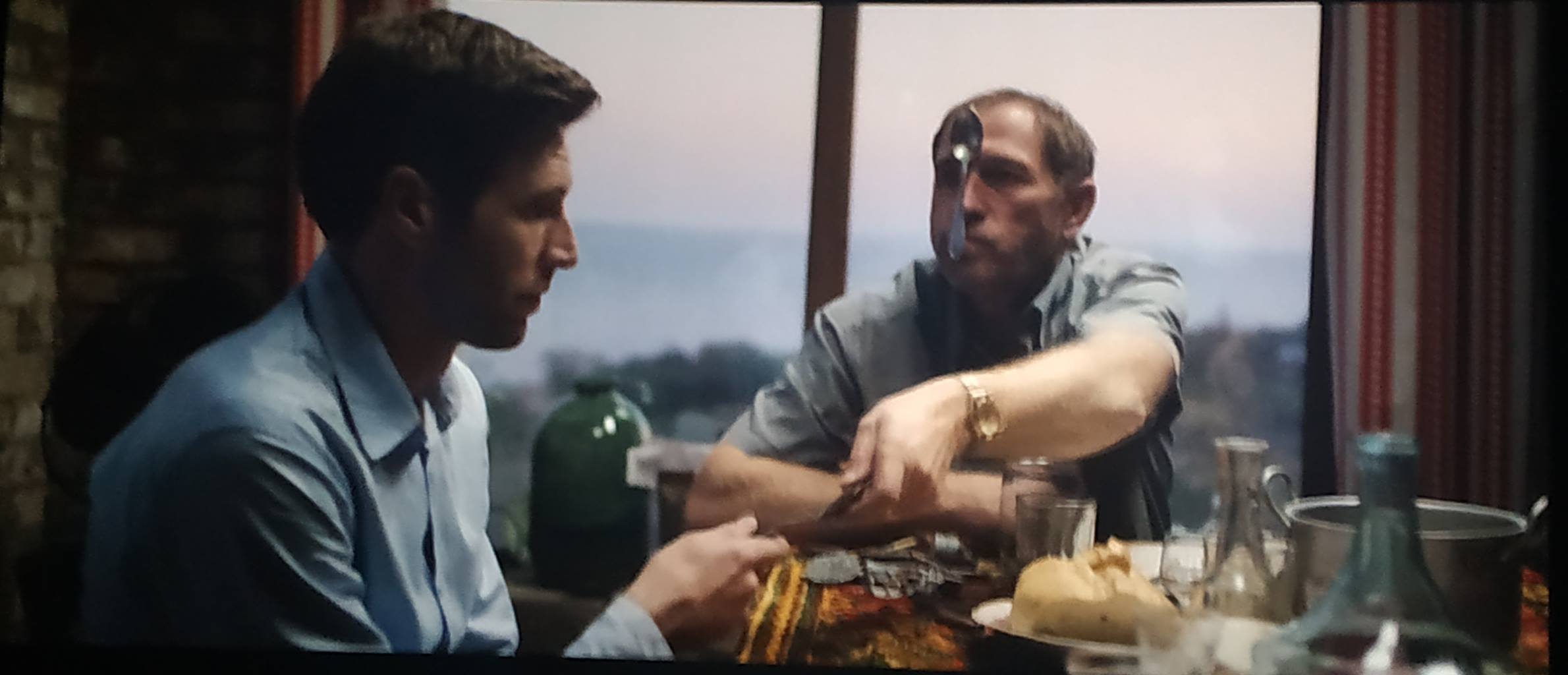 Photo: A still from Roman Bondarchuk's film "Volcano"
ON KHERSON AND KHERSON REGION IN FILMS
I was born, grew up, and was formed there. Kherson is very original, it has always been under-explored in art, and I like observing its people. I don't think I've lost touch with them: I still understand them, and I can hardly make an intimate story about Lviv, Cherkasy, or Chernihiv, which I also like very much. I can tell about Kherson because many of my family and friends still live there, and it's natural to film what you know and understand.
ON THE TRIP TO KHERSON REGION IMMEDIATELY AFTER THE KAKHOVKA DAM EXPLOSION
We managed to film people whose homes were destroyed by the flood. Entire districts in Kherson were flooded, more than one. I traveled with the team of the Vhoru Media Platform and saw how they work. It was very informative, interesting and important to see how a team of journalists works in a city under fire. I helped my father-in-law rescue a cat from a flooded apartment: the cat just wouldn't come out from under the couch. So we went to the Ostriv neighborhood with the emergency workers and somehow got the cat out with sheets. The rescuers were waiting for us on a boat under shelling. I filmed the residents of the neighborhood who stayed there despite everything. At that time, there was no electricity or water. They took water from the puddles in the streets and still stayed in their apartments. They set up brick stoves and some kind of pot holders on the shared balconies. There were 5-10 apartments left in the building, and they would collectively cook over a fire, exchange books, visit each other on the roof, and somehow unite. To my great surprise, the mood was very fierce. Everyone said that the war had not driven them out, the flood had not driven them out, and even if there was a nuclear attack, it would not drive them out either. Once again, this is about people and the way they live there.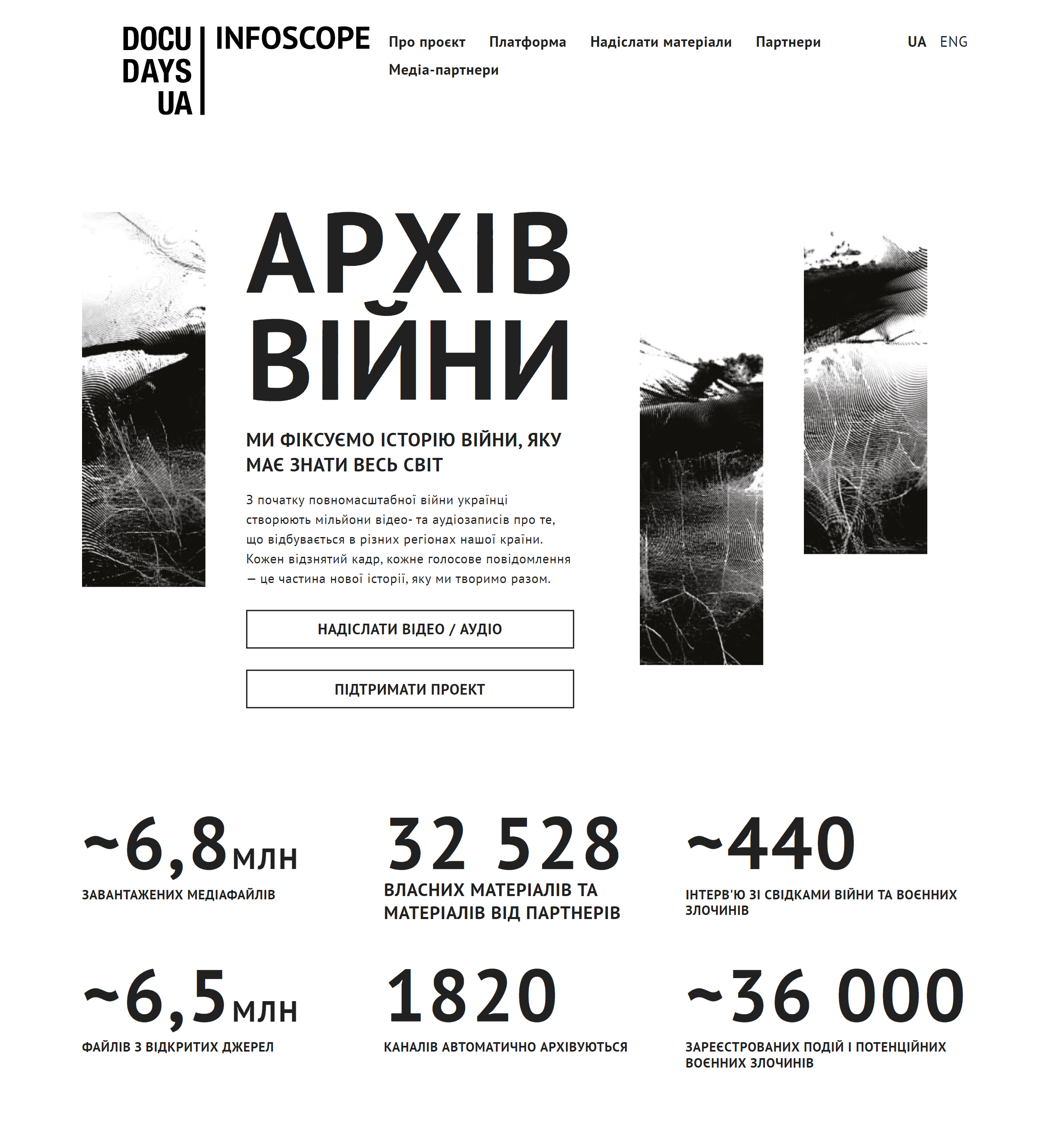 ON THE "WAR ARCHIVE" AND ITS RADICAL DIFFERENCE FROM DOCUMENTARY FILMMAKING
When we started looking for chronicles while working on the Encyclopedia of the Maidan two or three months after the victory of the Maidan, we couldn't find a lot of world-famous footage. It was not on YouTube, and streaming services were no longer working either. I contacted the journalists who were streaming the Maidan live, and they said that they had no preserved archives. I am convinced the Russians ensured that as little of the Maidan chronicle as possible remained.
When the full-scale invasion began, our work chat was immediately flooded with personal videos of people witnessing it all. The Facebook feed was full of streams of Russians entering, helicopters flying, people hiding in the bathroom or in the corridor under the table. I asked all my colleagues to keep these materials and, at the same time, started thinking about ways to organize them more systematically. It was already clear that this time the amount of information would be immense, and it had to be structured at once so that it could be used for research, or even better, to identify those responsible for war crimes.
Some time later, in March, we got on the phone with a university friend of mine who is involved in IT development and started thinking together about how to organize the search, structure, and protection of this data. He and his company Infoscope took over the software part, and we, the Docudays team, partially took over the analytical part. This means we are looking for partners and invite them to share their materials. We have a team that watches videos and assigns keywords to them. We have a team of documentary filmmakers who travel to the liberated territories, talk to people there and record in-depth interviews about their experiences. They talk not only about the war crimes they experienced, but also some very simple everyday things that will be important as a document of history.
I believe this is something radically different from documentary filmmaking. Many people think: what's so important here, someone else lived through a real tragedy, and I just spent a week in the basement. But I think that this is very valuable material for history and research. We do our best to ensure that no one can rewrite, change, erase, or destroy it. By analyzing and assigning keywords, we want to ensure that as many matches as possible can be found in a search query, and that it will be easier for researchers, analysts, and lawyers to work with this material and document this war. In the future, this work may result in a large digital museum where you can hear and find most of the stories that happened, most of what we are experiencing now. I urge everyone to share everything, even the stuff that seems not very important to you, because smartphones often get damaged, and these materials should live on and testify against the aggressor. We have a telegram bot, we have a website, and we have people who update this archive.
ON "WITNESSES" – THE FIRST DOCUMENTARY BY THE ARCHIVE TEAM
It just so happens that part of the team recording the interviews are also documentary filmmakers, and they are, of course, interested in making the collected testimonies part of the information field and telling about our people and their spirit. I was personally deeply impressed by this film "Witnesses." In it, a pensioner, a resident of the Kyiv region who has never seen an operating fire truck, finds one somewhere, gets in and goes to put out a fire. Or, for instance, a boat transports provisions to Ukrainian soldiers who are surrounded. The ease with which they tell and do it is truly amazing. Listening to them, I realized that these people are invincible in principle. The team is inspired, they plan to continue making "Witnesses," and it will be a series of short films from different parts of Ukraine about different episodes of this war.
ON BURNOUT AND DISTANCING IN CINEMA
I don't know how one can make films without burning out. One has to be ready to burn out, then extinguish oneself, recover and burn out again, otherwise it won't be real. There is no way to remain distanced, and one has to accept it. My teacher Yuriy Illienko used to say: cinema will test your strength, since you are encroaching on the hardest, most durable material – reality itself, the world itself, which you are trying to interpret or create. The resistance will be fierce, and if you can't overcome it, you won't be able to create a film. So prepare for maximum resistance. The stronger it is, the more chance you are on the right path. He said this in the first year of studies, and half of the students quit their first job right away because they didn't understand why they should overcome this resistance. The rest remembered this lesson and realized that when it is hard, you are doing it right.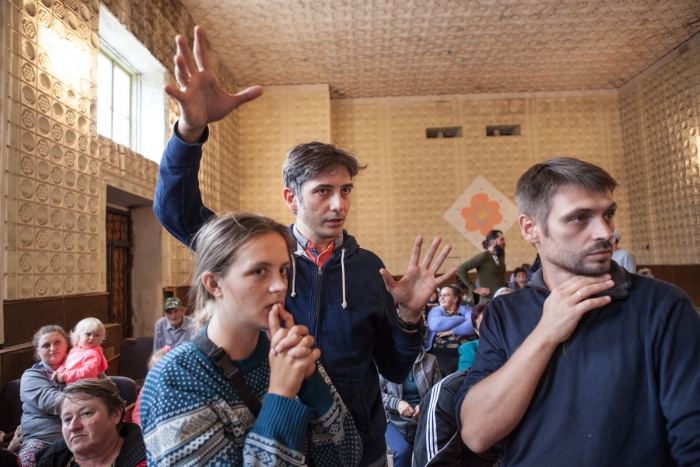 Photo from the archive of Roman Bondarchuk
The stories of the characters of Roman Bondarchuk's films were also told on the virtual pages of the Vhoru Media Platform: how the head of the village of Stara Zburyivka, Viktor Marunyak, was held captive by Russians for three weeks, or how the law enforcement inspector of the Stara Zburyivka village office, Viktor Kryvoborodko, escaped from a raid.
The development of the DOCU/CLUB Network is funded by the United States Agency for International Development (USAID), the Embassy of Sweden in Ukraine, the National Endowment for Democracy (NED) and Fondation de France.
The opinions, conclusions, or recommendations are those of the authors and compilers of this publication and do not necessarily reflect the views of the governments or charitable organizations of respective countries. The authors and compilers are solely responsible for the content of this publication.
All news
If you wish to use the film-collection of Docudays UA International Human Rights Film Festival, we invite you to join the network of permanent Docudays UA educational film clubs on human rights