DNIPRO FILM CLUB. THE KEY TO THE AUDIENCE AND THE POSSIBILITY OF CHANGE.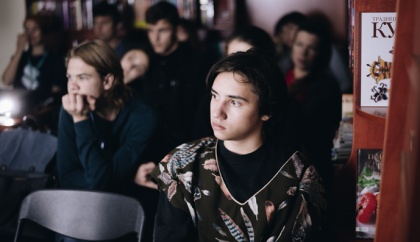 Among film clubs in the city public spaces, the most active is the platform at the Dnipro Central City Library.
15 October 2019
"At first, I got to the festival, and then during one human rights training we learned about another way of law education – films from the Docudays UA collection for film clubs. So we agreed with the library on the location, a modern socio-cultural center, and set to work. Our film club has been running since 2015," says Nataliia Zhebryk, Head and Moderator at film club.
Most screenings take place in one of the reading rooms. The film club is also often invited to hold field screenings to universities and schools, and sometimes to community organizations and charitable foundations. Long-term cooperation has been established with the educational complex № 122, the youth organization "Art-MOST". There is a demand for documentary films, especially when it comes to thematic events, such as the All-Ukrainian Action 16 Days Against Violence.
"The main audience of our film club is young people, students, and high school students. We have everything to hold high-quality film screening: a large screen, comfortable chairs and the ability to darken the room. I am glad that young people, also thanks to us, became frequent visitors at the library," sums up Nataliia Zhebryk.
It is important for a Dnipro Central City Library film club to acquaint young audiences with documentaries and basic aspects of human rights. According to the moderators, sometimes children and young people tend to repeat adult thinking patterns and say that they have no rights and cannot influence anything. Therefore, the film club aim consists in explaining the possibilities of change at both individual and global levels, for instance, through the advocacy campaigns.
One film can cause opposite reactions in different audiences. Sometimes unexpected twists and turns happen: real stories come into conflict with entrenched stereotypes. "There are no Romani people, they are actors," a conclusion that viewers came to after watching "Roma Dream" by Roman Bondarchuk. But when everyone started to leave, a guy who lived in the Orlivshchyna village, near the town, approached the moderator and said that a Romani family working as builders lived next to him. However, most residents still consider them to be thieves and beggars and have a negative attitude towards them. In general, he was completely unable to tell this story.
According to the moderators, it is important to find films corresponding to a certain age. If done carelessly, the audience will perceive the topic as a burden, an unnecessary and incomprehensible overload. It is also important to stick to the line – "If there's a problem — there's a solution or hope for a solution." It is good when there is a possibility of long-term cooperation with the audience.
Photo by Sofiia Sypalova.
All news
If you wish to use the film-collection of Docudays UA International Human Rights Film Festival, we invite you to join the network of permanent Docudays UA educational film clubs on human rights