IV all-Ukrainian conference "Documentary Film as a Tool of Media Education on Human Rights"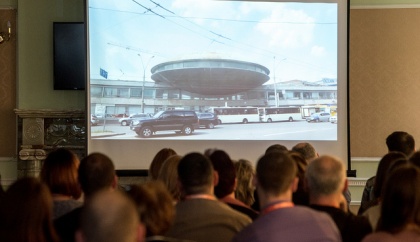 On March 27-28, within the framework of the IV all-Ukrainian conference Documentary Film as a Tool of Media Education on Human Rights, a meeting of representatives of one hundred and fifty Docudays UA film clubs was held at public and human rights organizations, libraries, educational institutions, galleries and penitentiary institutions. The event was held within the framework of the XVI International Human Rights Documentary Film Festival and included presentation sessions, an analysis of the network's annual work, moderating experience exchange and expert lectures.
31 March 2019
Chairwoman of Docudays UA Organizing Committee, Svitlana Smal mentioned that this year's festival is dedicated to the digital world, its impact on the way of thinking, communication, and human rights.
Alla Tyutyunnyk, Head of the network and member of the Organizing Committee reported that this year, Docudays UA film club network continued to grow in quality and quantity. In 2018, 207 film clubs in 24 regions of Ukraine hosted 1,727 screenings and discussions that involved 37,439 participants reported. There were 126 cinema clubs in schools, lyceums, higher educational establishments, libraries, NGOs, children's camps, 4 film clubs in educational establishments of State penitentiary service of Ukraine, 77 cinema clubs in correctional establishments of State penitentiary service of Ukraine. In 2018, 27 new Docudays UA film clubs have been created, two film collections and two expanded teaching guides have been designed for them. The first collection consists of 18 films and is intended for film clubs in schools, lyceums, institutions of higher education, libraries, NGOs, children's camps. The second collection consists of 14 films and is intended for film clubs at educational establishments and educational institutions of the State penitentiary service of Ukraine. Also this year, we managed to establish the cooperation with the network "I have the right!" and involve famous human rights organizations, who held a series of screenings and discussions within the large-scale exhibition "Democracy Again?" at Pinchuk Art Center. To develop and enhance the professional level of the Docudays UA Film Club moderators organizers envisages holding summer training seminars, fundraising workshops, and as well as improving network communication tools.
Igor Kofman, compiler of the 5th Documentary Films Collection for film clubs presented Docudays UA Online Film Club online resources: a site, a group to exchange professional experience and an ftp server, adding that films presented in this year's collection are extremely powerful and are worth paying attention to.
The documentary films appear to be a unique and effective tool because it does not give simple answers, it makes one think and it helps young people to develop, pointed out Khrystyna Hataliak, Head of Prime Legal Aid Support Department at Second Lviv Local Center for Free Secondary Legal Aid.
Valerii Kalivoshko, Head of the Department of Socially Educational and Psychological Work with offenders at Administration of the State Criminal Execution Service of Ukraine, told about measures have been taken for the offenders throughout the year and emphasized that return statistics shows that there are gaps from both penitentiary system and the society sides, so active work on social adaptation issues is ongoing.
Within the framework of the National Information and Advocacy Campaign against Cyberbullying and Cybergrooming presentation, Ksenia Shymanska, communicator of Docudays UA human rights department, highlighted how Docudays UA Film Clubs Network will be involved in the project and what results can be expected. Bohdan Moisa, an analyst at Docudays UA's human rights department, told about cyberbullying types, dissemination statistics, response to the phenomenon, and outlined the state's policy models to counter cyberbullying, and highlighted the campaign's goals.
Dmytro Zinchenko, the State Expert Expert of the Directorate for Human Rights, Access to Justice and Legal Awareness presented the STOP-bullying campaign of the Ministry of Justice of Ukraine which is aimed at shaping zero tolerance for bullying in the society and public awareness of possible mechanisms of response to bullying and victims protection as well as reported on the first results of activity.
Bullying stems from childhood, and it is a systemic problem that can be solved only at all levels involving adults, said Liubov Naidonova, an expert in media psychology and cyberbullying, doctor of psychology, president of the Association of Media Psychologists and Media Professors of Ukraine. Liubov shared details of the educational course released on the Prometheus platform:
There is no need to simplify the bullying because the problem is not bulliers, the problem is communication within a group. The bullying in a group means that the group cannot create the conditions for a comfortable existence of every member. If any complaints follow the campaign against billing, it will imply that the problem became visible, not the increase of bullying level.
Khrystyna Kit, chairwoman of the Association of Women Lawyers of Ukraine, JurFem (Lviv), described the ways the community uses to shapes a gender-sensitive, non-discriminatory professional environment. Space bridge "Pravokator" between the legal clubs of Lviv-Kharkiv-Odessa-Dnipro dedicated to the film screening "Silent War" by Manon Loizeau during the Traveling Festival became a separate topic for discussion.
Valentina Potapova, Head of the Cooperation Department of the Ukrainian Helsinki Human Rights Union with Higher Educational Institutions, Chairwoman of NGO "Center of Public Education Almenda" elaborated on methodological aspects of the 5th Docudays UA documentary film collection. The presentation of the new film collection focused on the classes' topics as well as the length of the films, depending on the target audience.
According to OSCE standards, when propaganda is increasing, the growth of media pluralism may be an answer, said Oksana Volosheniuk, manager of Academy of the Ukrainian Press' media education programme. She also elaborated on ways through which the main players in the field of media education can combat misinformation - false or inaccurate information, especially that which is deliberately intended to deceive. According to the speaker, the basis of successful struggle consists of information and communication competence, mastering the basics of digital literacy and developing the analytic, perception and critical evaluation skills in dealing with information in different texts.
Nina Khoma, Director at the Patronus Public Organization, shared her experience in providing security measures during film club events, emphasized the importance of consistency of actions including distribution of responsibilities and the availability of all necessary services contacts in emergencies.
Sometimes it can take only a few minutes to disrupt the event and much more time to react and resume the process. Therefore, it is necessary to consider the risks in advance: who can disrupt the event and why. Preparing for the event, it is also crucial to find credible people for the specific group who may be against the theme of the event, as well as remember about fire safety and medical care, added Igor Garmash, director at the Zaporizhzhya Art Space.
"Film clubs are now the most promising form of film existence, capable of extending the life of the film and providing extremely important contact with the audience," said Hennadii Kofman, a member of the Docudays UA International Human Rights Documentary Film Festival Organizing Committee. He also highlighted the potential aspect of the network - film distribution.
The second day of the conference began with a well-grounded lecture by Victoria Romaniuk, Deputy Editor-in-Chief of StopFake.org and Deputy Director of the Mohyla School of Journalism. According to the expert, the phenomenon of Fake news has become widespread because nowadays there is a real struggle for the consciousness of each individual. Charlie Hebdo case, Donald Trump campaign are testimonies to this fact. To counter these trends, computer and media literacy are required: the study of theory and practice in the process of contemporary media learning. It is also necessary to take a conscious approach to media consuming, to do so we need to understand how media are produced, who owns it and who pays. The expert highlighted various areas of media education and key competencies in media literacy, including digital literacy: the ability to work with data, communication and collaboration, digital content creation, security, problem-solving. We need to learn how media agencies work: how is this language organized? text structure: movies, photos, how are they produced?
Communications Coordinator at Docudays UA Film Festival and Docudays UA Film Club Network Oleksandra Nabiieva elaborated on internal and external communication strategies, steps that have been taken throughout the year. Namely, the improvement of the project external communication tools, a new strategy in the film club collection presentation, the network presentation on the documentary panel and activism within the Prague Civic Center CampCamp; a public discussion on Film Clubs: Non-Formal Education and Copyright within RIGHTS NOW! during this year's Docudays UA.
Alla Tyutyunnyk, member of the Organizing and the Selection Committee at Docudays UA International Documentary Film Festival, Head of Docudays UA Media Education Film Clubs, and Tetyana Kulik coordinator of Docudays UA Media Education Film Clubs Network reviewed the network's work and awarded the best film clubs in 2018.
During the review, the number of screenings, events on law education, involved experts, the persons present and their feedback were taken into consideration. The winners are Svitlana Mykholat, Kherson Region, Hola Prystan', Docudays UA Film Club "Look" at Regional Charitable Fund "Saint Olga"; Nina Homa , Docudays UA Film Club at the "Patronus" Community Initiative; Daryna Chitadze, Tetiana Tarasenko, Kirovohrad Region, Oleksandriya: Docudays UA Film Club "Vacations with Benefit" at NGO "Oleksandriya Association of Artists", Inna Shulha, Mariupol: Docudays UA Film Club at the Central City V.G. Korolenko Library, Lviv: Docudays UA Film Club at the Second Lviv Local Center for Free Secondary Legal Aid, Khrystyna Hataliak, Docudays UA Film Club at Kremenchuk Educational Colony, Natalia Chumak, Chortkiv: Docudays UA Film Club at Chortkiv Central District Library, Oleksandr Stepanenko.
Film clubs managers shared their experience in holding screenings and discussions with colleagues. Svitlana Chubuk, Docudays UA Film Club at Lysychans'k Multidisciplinary Lyceum, noted that she had already tried to discuss bullying using films from the collection as a tool. Mariia Tsypiashchuk, Manager at "Human Rights through the Lens" Docudays UA Film Club in Rivne told about screenings for students, her participation in the "Here and Now" initiative, the "Otherwise" project, where she worked as a volunteer and held screenings in a neuropsychiatric clinic.
Oleksandr Stepanenko, head of Docudays UA Film Club at Chortkiv Central Library, emphasized that his activities are aimed primarily at dialogue and at critical thinking center building. He elaborated on how he finds a new audience during the Traveling Festival and invites it to film screenings in clubs. He also told about field screenings which took place in three military units, universities, and dormitories, and about the screenings in the "open sky" format during the summer in cooperation with tourist communities at the youth camps.
Nadiia Bala, Lviv, Docudays UA Film Club at the Regional Universal Scientific Library, shared its own observations on the special children's affection towards film "Jamala's Struggle", as well as on the fact that screenings for the children require special attention to the audience's reaction and the break during the screening with the help of stop-frame method. Natalia Chumak, psychologist and moderator at Docudays UA Film Club at Kremenchuk correctional colony, pointed out that screenings are very helpful in dealing with troubled teenagers who have committed serious crimes. Shestakov Vasyl, director of Docudays UA Film Club at the Dnipro Center for Staff Development told how the films from the collection became part of the methodology for professional training.
The screening of the film "Facade Colour: Blue" directed by Oleksiy Radynski took place within the framework of the platform "CIVIL PITCH: civil activism films" aimed at cooperation between directors and activists. The film depicts the story of unique building "UFO" created by architect Florian Yuriev and resistance to commercialization. "Facade Colour: Blue" was presented by programme coordinator of the festival Darya Bassel. Question and answer session with the director followed the screening.
Finally, the organizers led by the Chairwoman of Organizing Committee, Svetlana Smal listened to questions and suggestions from the Conference participants.
Feedback from conference participants.
Iryna Koval, Vyzhnytsya Local Center for Free Secondary Legal Aid:
We have been working with Docuclab for almost a year and it is our first time at the conference. The experience of using films from the film club collections during Law Week was interesting. The audience enjoyed the films "Jamala's Struggle" and "E-Wasteland". Everything I heard at the conference was interesting and accessible, and I find this experience to be useful for my future work. I was impressed with the presentations and lectures, and the film "Facade Colour: Blue" was incredible. I would also like to continue watching short films and discussing them here with colleagues during the conference.
Natalia Bokhan, Kamianske, Docudays UA Film Club "Prometheus" at the Central City Library:
I am extremely grateful to the fate and the organizers that I became a member part of the documentary human rights film clubs. As a librarian, I love books and read a lot, but only thanks to Docuclub, its activity and well-thought preparation for screenings I gained an opportunity to learn more about human rights. Now, I'm trying to transmit these values ​​to my viewers. Each time at a conference, the organizers manage to come up with something new to surprise us. Meeting new people, communicating with them and experience sharing are also extremely valuable.
Natalia Chumak, Docudays UA Film Club Moderator at Kremenchuk Educational Colony: The conference was eventful and diverse, I would like to thank the organizers and moderators for pleasant atmosphere, knowledge, and experience.
Photo - Nikita Yurenev
All news
If you wish to use the film-collection of Docudays UA International Human Rights Film Festival, we invite you to join the network of permanent Docudays UA educational film clubs on human rights