DOCUDAYS UA/COMMUNITY CULTURE BUS: A TRAVELLING HOUSE OF CULTURE AND FILM CLUB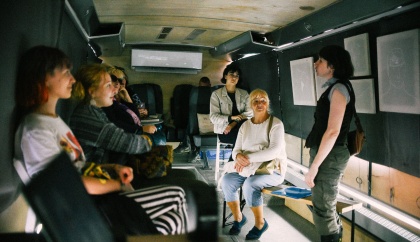 The Community Culture Bus is a project of the IZOLYATSIA Platform for Cultural Initiatives in cooperation with the U.S. Embassy in Kyiv, Ukraine. Its main goal is decentralization of culture. In 2019, the Community Culture Bus visited 25 cities and towns in 14 regions of the country with a developed program of events. This year, the travelling culture center goes on a journey together with the DOCU/CLUB, with films from the collections of the Docudays UA International Human Rights Documentary Film Festival.
13 August 2020
On 17–22 August, a regular public bus will turn into an actual travelling house of culture and go to the East to collect a Family Album of Ukrainian cities. The project will be welcomed by Donetsk Region, particularly Dobropillia (17/08), Novoekonomichne (18/08), Pokrovsk (19/08), Bakhmut (21/08), and Soledar (22/08).
"During our trip, we will collect family photos, postcards, stamps or other things associated with childhood. Even a 'secret' buried in your garden can be one of those things. We will also offer the guests of our cultural space to tell us some fairy tales they heard from their family members when they were kids," adds Olena Mason, the project's curator.
Photo provided by the project team
The Community Culture Bus will offer the residents of cities and towns in Donetsk Region to participate in various cultural and educational activities. These include the street photography exhibition and workshop by Harry Yefimov, a masterclass in silk printing by Anastasia Khadzhynova, art workshops by Alevtyna Kakhidze for children and teenagers, and an open air cinema from the Docudays UA/Community Culture Bus documentary film club. Olena Mason notes:
"We have engaged the DOCU/CLUb in the collaboration. First of all, because we do not want art to be an entertainment, but, on the contrary, we want it to encourage dialogue on complex and relevant topics. The film program already includes two short films, Home Games by the Ukrainian filmmaker Alisa Kovalenko, and Blossom with Tears by the Chinese documentary filmmaker Huaqing Jin. The former is about the life of a teenage girl who is forced to grow up quickly by a burden of responsibility. In my view, this story is about growing out in general, in a broader sense. It's an important topic which can unite us all. We will also talk about equality, about strong and capable women. The second film, Blossom with Tears, is about a Chinese boarding school for children. For me personally, this is an occasion to discuss the sensitive approach to childhood and education. And to think about our socialist past, and possibly about shared traumas".
The cinema's capacity is about 30 seats, complying with all the quarantine security measures for public events. So during the trip, over 150 people should watch and discuss the documentaries. The events will start when the afternoon heat subsides, at 3 p.m.; every night at 8 p.m., there will be a film screening and discussion; the events will end with a music program. The organizers will announce the detailed schedule soon on the project's page.
Physically, the Community Culture Bus is a multifunctional mobile space created by transforming a public bus into a culture hub. The project partially recreates the old tradition of avant-garde museum work and the practice of travelling exhibitions, which were started by Ukrainian artists, among others, in the early 19th century.
Main photo: provided by the project team
All news
If you wish to use the film-collection of Docudays UA International Human Rights Film Festival, we invite you to join the network of permanent Docudays UA educational film clubs on human rights