DOCUMENTARIES HAVE A SPECIAL POWER
Interview with Oksana Hlebushkina, the moderator of Kherson Human Rights Documentary Film Club Docudays UA.
1 June 2017
Oksana Hlebushkina used to be a professional piano player, studied psychology, volunteered for the NGO Successful Woman, and even served as a public official. But her life changed radically after she attended the International Festival Docudays UA screening for the first time. Today Oksana is the executive director of the NGO New Generation Community Center, a coach, and a moderator of Docudays UA film club in Kherson.
- Oksana, how did you learn about the festival?
- I heard about Docudays UA for the first time at a human rights seminar in Chernihiv. Everyone around me was saying, "Docudays! Docudays!" I was very curious about what it was, and I went to Kyiv to attend the festival. It was in March 2018. The films impressed me so much that I immediately wanted to bring them to Kherson. And the same year, when the preparations for the traveling festival started, our organization applied for the status of Docudays UA's regional partner. And in autumn, we already obtained the right to screen the winning films in Kherson region.
- Was it difficult to organize screenings in Kherson from scratch?
- We started very cautiously and with trembling, without knowing properly what we were supposed to do, but we were sure that we needed these films in Kherson. Back then, we thought it was very important to show them to politicians, first of all. So the first screening was organized in cooperation with the Department of Internal Policy of the Regional State Administration. We screened the film in Kherson Regional Library, set up a rostrum and invited representatives of the Administration to make speeches. Only later we understood that "internal policy" and human rights are completely separate things… But we were still very proud that we brought the festival to our city! After this case, we did not have any rostrums or politicians as speakers.
Next year, we screened films in the KinoVideoProkat hall, which could accommodate only 20 viewers. We did not find any other venues available to the festival in our city. Later, we started organizing small screenings wherever we had partners, for example, in Kakhovka, in Muzykivka. And every year, the number of venues increased. Now the Docudays UA Traveling Festival takes place in a Multiplex, and it has enough space to do a lot of things. Kherson residents already know the festival, many guests come. This year, 11 new districts of Kherson region joined us.
At first, when we visited the districts, nobody knew us, and now they say, "Oh, Docudays, yes, we know. There will be a film".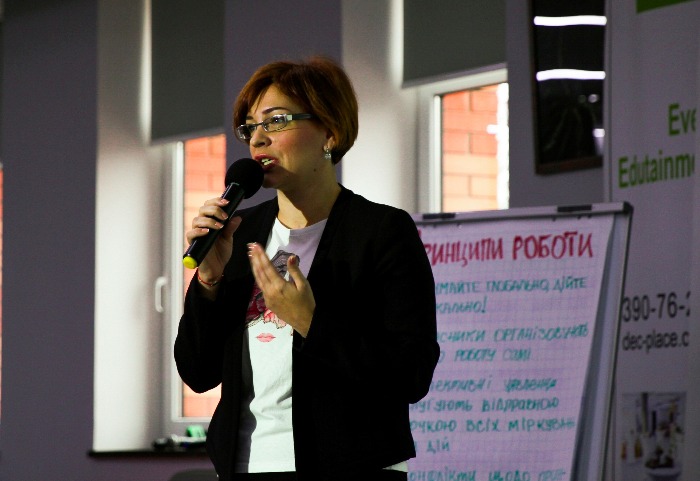 - Organizing and conducting a festival in Kherson and in 11 districts is enormous work, but you decided to expand your activities beyond the Traveling Festival, right?
- Yes. Because the festival always ended quickly, and we wanted to screen and discuss more. When the film club format appeared, we immediately wanted to open a club in our city. You have to wait all year for the festival, and the film club allows you to screen Docudays films even weekly, if you want. Together with Leonid Yezhurov from the NGO Director.org, we opened the DOC.Club and started to invite Kherson residents for films, tea and cookies every month.
But organizing a screening and a discussion about a film is not as easy as it seems. Every screening requires serious preparation, because you do not want to do it hastily. You want to say a lot about rights, invite experts to the discussion after the screening, and you also have to prepare announcements, send them to the media, so that the viewers are able to come. In addition to all this, we have quite a lot of other daily work in the organization. The New Generation has joined the decentralization reform, the police reform, we organize trainings on youth leadership, on gender equality and so on. So in a while, due to huge workload, we decided to pause our film club. But! The demand for films turned out to be so high that we had to look for a different solution. And it also turned out that the films from the film club collection are actually necessary in our decentralization work, and in developing youth leadership, and in shaping gender democracy. So then we decided to join our efforts with the Docudays UA Traveling Film Club at the Charitable Organization "Charity and Health Fund."
- Where have you been with the Traveling Film Club, so far?
- In early May, we went to Askania Nova in Kherson region, with the project Community Voice in Local Self-Government, part of the large-scale Ukrainian decentralization program DOBRE. We showed the film Please Vote for Me to grammar school students. And it turned out that the screening was very timely, because exactly at that time they had a school president election. We discussed this film with their teacher before the screening, and we found out she knows about Docudays, she attended festival screenings back when she was a student. It is striking that several generations already know us. And we talked with the children about the possibilities that open for young leaders. The result was that, after the film screening and discussion, one of the girls said she would run for school president. She was anxious about it, but she saw that everything was possible.
Documentary films are very "catching." They do not have to be positive, but they must provoke reflection. Because it is not an imaginary story, it is live. For example, the film Liza, Go Home!. When you watch this film, something turns in your soul. A girl who has no choice, her mother decided everything for her. As long as she is little, she practically has no rights. We have already screened this film several times, and many times people asked, what happened to this girl afterwards? Where is she now? How has her life developed? And this kind of questions are raised after many screenings.
In May, we also gathered schoolchildren from rural areas of Kherson region. We showed them the film Gabriel Reports on the World Cup. The children were struck by the idea that a boy with only a camera in his hands can do so much. Next day, we organized a workshop with Ustyn Danchuk, the leader of the First Kherson Film School. And now anyone who wants to is learning how to make films themselves. We are planning to have another class at which Ustyn will give the young creators a task. For two weeks, they will film in their communities films on the topics which are relevant for their villages. And if they manage to do it well, and they show their films afterwards, then it will be the best result. The children will be able to demonstrate, to explain how they see the problems of their communities, what solutions to those problems are possible. Our goal is to direct the students properly, so that they do not just fool around, but pay attention to socially urgent topics.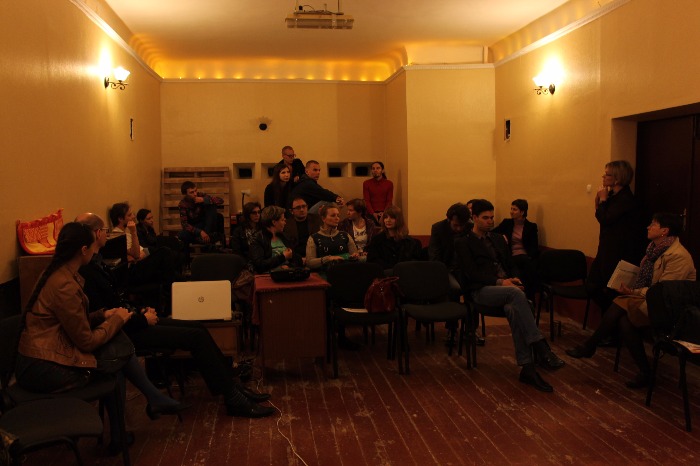 - Oksana, do you have any favorites in the film club collection?
- I like the film Why? Are you lacking faith?! about a boy with the Down syndrome. I always recall its screening with great warmth. Back then, parents with their children came to us, we invited many experts. We had a very ardent discussion about how these children are treated at schools and in the society in general. I discovered how powerful a film can be, how documentary films change your attitude to yourself, to people, and to the "sunny" children in particular.
I also like the films from the New Heroes series by Roman Bondarchuk. Since they are in open access, I use them in my trainings quite often. When you want to show what community mobilization looks like, the story of Viktor Maruniak, the chairman of Stara Zburyivka village is the best example. Because it is a case when people rose up themselves and went out to defend their own interests and rights. It is not an imagined picture, it is a real, living story.
I was also very moved by two last year's festival films, The Nest and Happy Easter. These are films about relationships between parents and children, about children's expectations. And because I am both a mother and a child myself, it was very interesting for me to see how it looks from the outside.
I also remember very well the festival film Solidarity According to Women about women's movement and uprising in Poland. It breaks stereotypes. Documentaries allow you to "dig into" the topics you do not think about every day. It is like provoking yourself. Yes, they do not always give answers, but they always ask the right questions. And it is the first step to understanding, and therefore, to action.
Interview by Ilona Polesova
Source: Vgoru newspaper
All news
If you wish to use the film-collection of Docudays UA International Human Rights Film Festival, we invite you to join the network of permanent Docudays UA educational film clubs on human rights