DOCU/WEEK in Schools! Docudays UA Launches a New Educational Project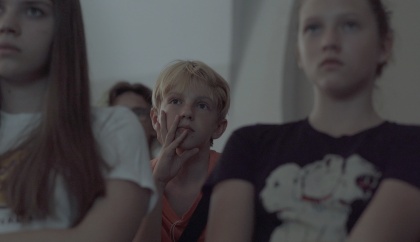 As a part of the Campaign Against Cyberbullying, Docudays UA launches a new educational project, the school DOCU/WEEK against bullying. Already in October, the first 200 schools will have a chance to participate in the programme.
18 September 2019
"The idea to organize DOCU/WEEK in schools was born from the impressions we get every year in communication with teenagers while watching and discussing with them the films from our special festival programme DOCU/YOUTH," says Olena Shulha, the coordinator of DOCU/WEEK. "It was also based on the analysis of the work of more than 200 DOCU/CLUBs in the Festival's network, which function today, in particular, in libraries, schools and youth centres. We are convinced that documentary cinema can become a new educational tool which our schools really lack. Since, unlike the traditional instruments, it does not just allow to bring the topic of discussion closer to the students, but also facilitates their emotional involvement and motivates them to search for solutions of problems, which is one of the bases of an effective educational process."
Thus, with support from the Ukrainian Ministry of Education and Science, human rights advocates and psychologists, we have developed a special programme for students of 5–7 and 8–11 grades, which includes scenarios for thematic classes, and prepared two films for screening and discussion at schools: Bully by the American director Lee Hirsch, and Giovanni and the Water Ballet by the Dutch director Astrid Bussink.
We believe that the DOCU/WEEK at schools will help students learn more about the forms, manifestations, causes and consequences of bullying; develop intolerance of violent behaviour models; understand bullying as a humiliation of human dignity. We also hope that it will involve all the participants of the educational process, including parents, to actively help prevent bullying and that it will give teachers new experience of using documentaries as instruments for attracting attention, delving into a topic, and developing empathy.
Registration for the DOCU/WEEK against bullying is open until September 27 at our website bullyingstop.org.ua. Participation in the project is free of charge. The schools that will participate in the project will be selected according to a competitive procedure. You can fill in the registration form at this link.
All news
If you wish to use the film-collection of Docudays UA International Human Rights Film Festival, we invite you to join the network of permanent Docudays UA educational film clubs on human rights