DOCU/CLUBS Travel across the Country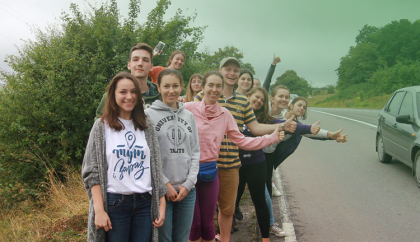 The festival project DOCU/CLUBS hits the road once again with Here and Now.
10 August 2017
The festival project DOCU/CLUBS hits the road once again with Here and Now. Our moderators will travel to the East and to the West of Ukraine with documentary films.
The Here and Now initiative, which promotes the ideas of active citizenship among the residents of the East and the West of our country, for the second year in a row invites young people to join the project.
Maria Tsypiashchuk, a moderator of the Rivne film club Docudays UA "Human Rights Through The Lens" will take part in The Eastern Tour. Two participants will join to The Western Tour: Tetiana Karpiv, moderator of the Lutsk cinema club Docudays UA at Volyn Press Club and Anastasia Chorniy, a moderator of the Tinopil film club Filmclub Docudays UA "MOV!E ON" at the "Youth Center of Development "MIST".
This year, the trip will last from August 13th to August 20th. Two teams, 25 volunteers in each, will go on two tours simultaneously. The Eastern Tour team will visit the villages Bilokurakyno in Luhansk region, Shcherbynivka in Donetsk region, and Shevchenkove in Kharkiv region. The Western Tour team will visit villages Bodaky in Ternopil region, Holoby in Volyn region, and Khodoriv in Lviv region.
In these villages, the teams will restore a summer theater, build a sports ground, design leisure spaces for youth in an arboretum and youth spaces in libraries — and, of course, watch documentary films.
In particular, our moderators will show two feature-length films in the villages: This Is My Land by Tamara Erde and Pink Saris by Kim Longinotto.
This Is My Land follows a few Jewish and Arab teachers throughout the school year and shows how the educational systems of Palestine and Israel teach the history of these countries to their children. And the Pink Saris is a film intrusion into the life of an unusual political activist Sampat Pal.
In addition, the program includes three short stories: a film about a night bus in the Silicon Valley (Hotel 22 by Elizabeth Lo), a film about a Brazilian boy who protected his neighborhood (Gabriel Reports on the World Cup by Els Van Driel) and film about childhood and nature (Liza, Go Home! by Oksana Buraja).
The header photo from the official homepage of the Here and Now project
All news
If you wish to use the film-collection of Docudays UA International Human Rights Film Festival, we invite you to join the network of permanent Docudays UA educational film clubs on human rights