IS ART STILL RELEVANT DURING WARTIME?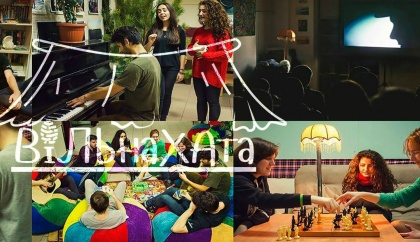 We have conducted an interview about one interesting social experiment in Kramatorsk and about relevance of art in wartime with Yurko Didula, one of the leaders of "Free House" project who also is a manager of the first Docudays UA film club of human rights media education in ATO Zone.
17 May 2015
After Ukrainian Army freed Kramatorsk many volunteers arrived to the city helping to rebuild it. Volunteer movement gathered together dozens of like-minded people, and provided magnificent impetus for creation of the informal art space for communication and development "Free House" (Vilna Hata). Recently a Docudays UA film club started functioning in this space too.
We had a conversation with one of the leaders of this project and a manager of the first Docudays UA film club of human rights media education in ATO Zone Yurko Didula about this unique social experiment. Among other things, we discussed the question of art's relevance in wartime.

About Free House
The idea to create Free House after Kramatorsk's liberation emerged during the action "Let's build Ukraine together", organized by Lviv educational foundation in Kramatorsk. Back then almost 100 volunteers from all over Ukraine came to the city to rebuild damaged building together with local youth. This volunteer movement brought together dozens of like-minded people from Kramatorsk, empowering them and providing with an impetus to continue the work.
Yet activists faced the problem of the lack of space, where they could gather, discuss their ideas and realize them. We started to think about the possibility of creating youth platform and already in the beginning of December last year we had a grand opening. Free House is characterized by atmosphere of mutual help and trust. These two things are the foundation of the healthy society.
Free House became a social experiment of a sort, aiming to teach young people how to be responsible - not only for themselves and their leisure, but for their city, their country and whole planet Earth. Free House regularly organizes communal cleaning events, and it also is the first public establishment in the city that recycles garbage. We sort raw materials and submit them for processing, using the income for social projects. All processes take place in bomb shelter that we have renovated and turned into our workshop.
Today everyone can come here and implement their creative ideas. Free House performs a function of communication between Kramatorsk and rest of the world. We are a cultural bridge: famous cultural and civic activists have visited us here, for instance, Serhiy Zhadan, Sashko Polozhynsky, Roman Skrypin.

About friendship between East and West
In reality, Lviv educational foundation has worked with Kramatorsk for more than three years. First, we organized cultural-educational trips to Lviv "East-West", then - school of civic activity "Space of ideas" in Ochakiv.
Yet, before events in the East, exchange was one-directional. We did not go to the East. For the first time it happened after Kramatorsk was liberated from DNR. Obviously, we were motivated by desire to help people to recover from traumatic events, to demonstrate solidarity and to rebuild ruined houses, to unite Ukraine and Ukrainians not by words but by actions. And really, during two months stay and common work volunteers from Lviv and Kramatorsk have established real friendship.

About Lenin's "presence"
It is quite possible, that by its mere presence Free House has ruined several dozens of lenins in people's heads. But we have nothing to do with demolition of the monument in Kramatorks. We do not participate in such events. Instead, we try to instill in young people desire to think critically and learn how to argue their opinion, regardless of what they think about Lenin's presence in the main city square. Now we are organizing Oxford-style debates about the historical persona of Ulyanov. We hope that this format will allow for proper discussion of the question of Lenin's monument in our city.

About culture, under any circumstances
I think example of Free House demonstrates how important it is for cultural centers to function under any circumstances, including wartime that our country happens to find itself in at the moment. If we stop creating, being happy and resting, this will lead to demoralization. And this is precisely what Putin wants (among other things). Free House adds a little bit of color and radiance to the city. It is a good ground for development, networking and unification around certain values.
I know about Docudays UA Festival from its very beginning. Several times I participated in screenings and discussions. Festival film clubs (DOCU/CLUB) help to develop, force viewers to think more, teach how to express one's opinion. And Ukrainian youth needs precisely those skills, and not only in Kramatorsk. By the way, idea to open DOCU/CLUB in Free House appeared after Festival's representatives visited us.
At the moment it is difficult to arrive at some general conclusions about people's reaction to screenings. It mainly depends on film's topic. If films do not relate to recent events, discussion unfolds calmly. But when we showed film about Maidan – "Euromaidan. Rough cut" – the atmosphere was quite heated. During our last screenings in four cities of Dnipropetrovsk, Donetsk and Kharkiv oblasts we watched film "Sinner's disease" about HIV-infected people. At first people were shy, but then became more brave and energetic. Culture of film discussion is a new phenomenon for Ukraine, regardless of the region.
In May Lviv educational foundation will open a similar space in Slovyansk. Consequently, we will open one more DOCU/CLUB. Over the last few months we have worked in Lozova, Pavlograd and Druzhkivka. Hopefully, soon similar centers will appear there too, creating an opportunity for Docudays UA film clubs to work there.
Text by
Tetyana Mala
PR manager of DOCU/CLUB project
All news
If you wish to use the film-collection of Docudays UA International Human Rights Film Festival, we invite you to join the network of permanent Docudays UA educational film clubs on human rights