New Heroes
Director: Roman Bondarchuk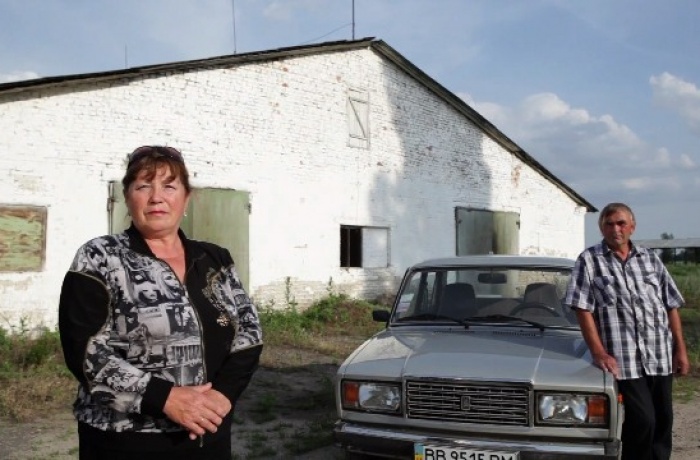 Subject:
Right to peacefully assemble
Human dignity
Philosophy of Human Rights
Audience:
Employees of penitentiary system
Institutions of the state penitentiary system of Ukraine
Activists / NGOs
Students
Journalists
Lawyers
New Heroes are three documentary portraits of ordinary Ukrainians. Each of them has a story apart, but all of them struggle against injustice in today's Ukraine. An average person often has difficulty accessing the information concerning the available legal opportunities that would help this person amend his or her conditions: to start a business, to unite a community for the defense of its communal property, as well as their rights and interests. These are three stories that prove that it is possible to fight injustice if one makes an effort, if one is not afraid and doesn't get broken under the pressure of circumstances. It's about the ordinary people from remote places in the East and South of Ukraine who stopped the system from driving them into a deadlock.
The films were created with the support of International Renaissance Fund in the framework of the initiative "Legal Empowerment of the Poor".
The village of Zakotne, Luhansk Oblast, Novopskovsk Raion
Milk is the only source of income in Zakotne. The milk market is controlled by resellers; they drive their milk tankers around villages buying milk from households at ridiculous prices, to resell it to the milk factory several times more expensive. Moreover, they get subsidies from the state intended for the support of peasants. Those families in Zakotny who have one or two cows make their living with what resellers pay them. Peasants give away their milk on the basis of verbal arrangements only, and there is no legal guarantee that the money for their product will be refunded in due time.
Tetyana Syvokon persuaded her fellow villagers to create a cooperative, in order to enable themselves to sell milk to the factory without any resellers. Resellers didn't appreciate that. They enlisted the support from local officials and started to create all kinds of obstacles to prevent villagers from dealing with the factory directly. The villagers didn't give up; they created a public organization "Defending Peasants' Rights".
Funding the cooperative and "Defending Peasants' Rights" organization was helped by the Novopskovsk Regional Center for Legal Information and Consultations. The center's lawyers are currently helping peasants to defend the cooperative's rights.
The Center was created by: Public Committee for Defending Constitutional Rights and Freedoms (chairman Mykola Kozyrev, Luhansk) and International Renaissance Fund in cooperation with Open Society Legal Initiative (Budapest).
---
Pavlohrad, Dnipropetrovsk Oblast
Inhabitants of 30 houses in Pavlohrad refused to take services from the State Housing Department and created (UABC) Unions of Apartment Block Co-Owners. As a result, they pay for housing services 6-7 times less than before. The film's hero is Valentyna Minaeva, chairman of "Steppe Front 50" UABC who explains the advantages of such Unions over the State Housing Departments. Citizens were assisted in defending their rights by the Pavlohrad Center of Legal Information and Consulations. Recently, the Center's lawyers helped creating the public organization of UABC heads of Pavlohrad.
The Center was created by: Pavlohrad Municipal Charity Fund "Gorenie" (President Olena Hrechko) and International Renaissance Fund in cooperation with the Legal Initiative of Open Society (Budapest).
---
The village of Stara Zburyivka, Holoprystansky Raion
Regional officials illegally handed out 29 Hectares of community's best lands to fictitious persons. Viktor Marunyak, head of the village council, who sued them, was put to prison. The villagers got together, created the Committee of Self-Defense of Stara Zburyivka and started campaigning for their rights and defending their village head. The investigation was unable to prove Viktor Marunyak's guilt. None of the fabricated accusations were confirmed, and he was set free, following the pressure from the community. Notwithstanding the resistance and threats from the regional officials, village deputies voted for the return of Viktor Marunyak into power. He was elected to be the village head again, at 2010 elections. Throughout that time, he was fighting for the lands that were stolen from the community. As a result, the Prosecutor General's Office found the transfer of lands into ownership to be illegal.
A Center for Legal Information and Consultations was created in the village of Stara Zburyivka. The struggle for returning the stolen lands is still under way. The center provides legal support to 12 more surrounding villages. As this story evolved, the village community underwent considerable changes. Two public organizations were created and are successfully functioning in Stara Zburyivka: the Hola Prystan Regional Public Organization "Stara Zburyivka Committee of Self-Defense" and Youth Public Organization "Dniprova Chaika".
The Center was created by: Kherson Oblast Fund for Charity and Health (head of executive committee Natalia Bimbiraite) and International Renaissance Fund in cooperation with Open Society Legal Initiative (Budapest).
The film team:
Alla Tiutiunnyk,

consulting expert on human rights and advocacy

Roman Bondarchuk,

film director, camera

Andriy Lisetsky,

camera

Borys Peter,

sound engineer

Darya Averchenko,

journalist, script writer

Natalia Bimbiraite,

executive producer, project manager
Today, 27 centers for legal information and consultations are functioning in 12 Oblasts of Ukraine in the framework of the Program "Legal Empowerment of the Poor", in 2009-2011. Information on Centers is available at www.pravo.prostir.ua and at Facebook page: Legal Empowerment of the Poor in Ukraine.
director

Roman Bondarchuk
Roman Bondarchuk was born in 1982. He graduated from the Karpenko-Kary National University of Theater, Cinema and Television in Kyiv, under the tutelage of Yuri Ilyenko. He has made a number of short films, documentaries and music videos. He has won many national and international film festival awards.
If you wish to use the film-collection of Docudays UA International Human Rights Film Festival, we invite you to join the network of permanent Docudays UA educational film clubs on human rights