Facade Colour: Blue
Director: Oleksiy Radynski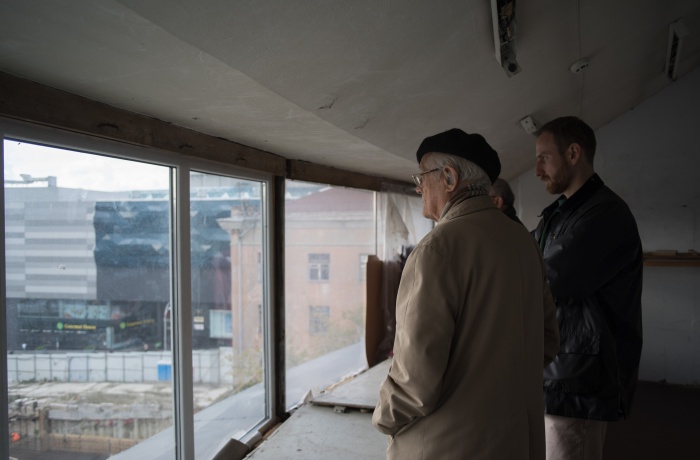 Subject:
Human dignity
The citizen and the state
Audience:
Lawyers
Students
Journalists
Activists / NGOs
Florian Yuriev is an architect, artist, violin maker, theoretician and poet. Approaching his 90th birthday, he has to master another occupation, which is completely new for him. In order to save his architectural project, Kyiv's UFO building, from being absorbed into a shopping mall, Florian Yuriev launches a campaign against the mayhem of property developers in Ukraine's capital.
director

Oleksiy Radynski
Oleksiy Radynski is a documentary filmmaker and writer. His films have been screened at the Oberhausen International Short Film Festival, DOK Leipzig, Guanajuato, Watch Docs (Warsaw), Odesa IFF, Nowe Horyzonty (Wroclaw), '86' (Slavutych) and other festivals, as well as at e-flux (New York), S A V V Y Contemporary (Berlin), the Institute for Contemporary Arts (London), and other venues. His film The People Who Came to Power (2015, co-directed with Tomáš Rafa) won the main prize in the national competition at Docudays UA in Kyiv.
If you wish to use the film-collection of Docudays UA International Human Rights Film Festival, we invite you to join the network of permanent Docudays UA educational film clubs on human rights