China's Van Goghs
Director: Yu Haibo, Yu Tianqi Kiki
Country: China, Netherlands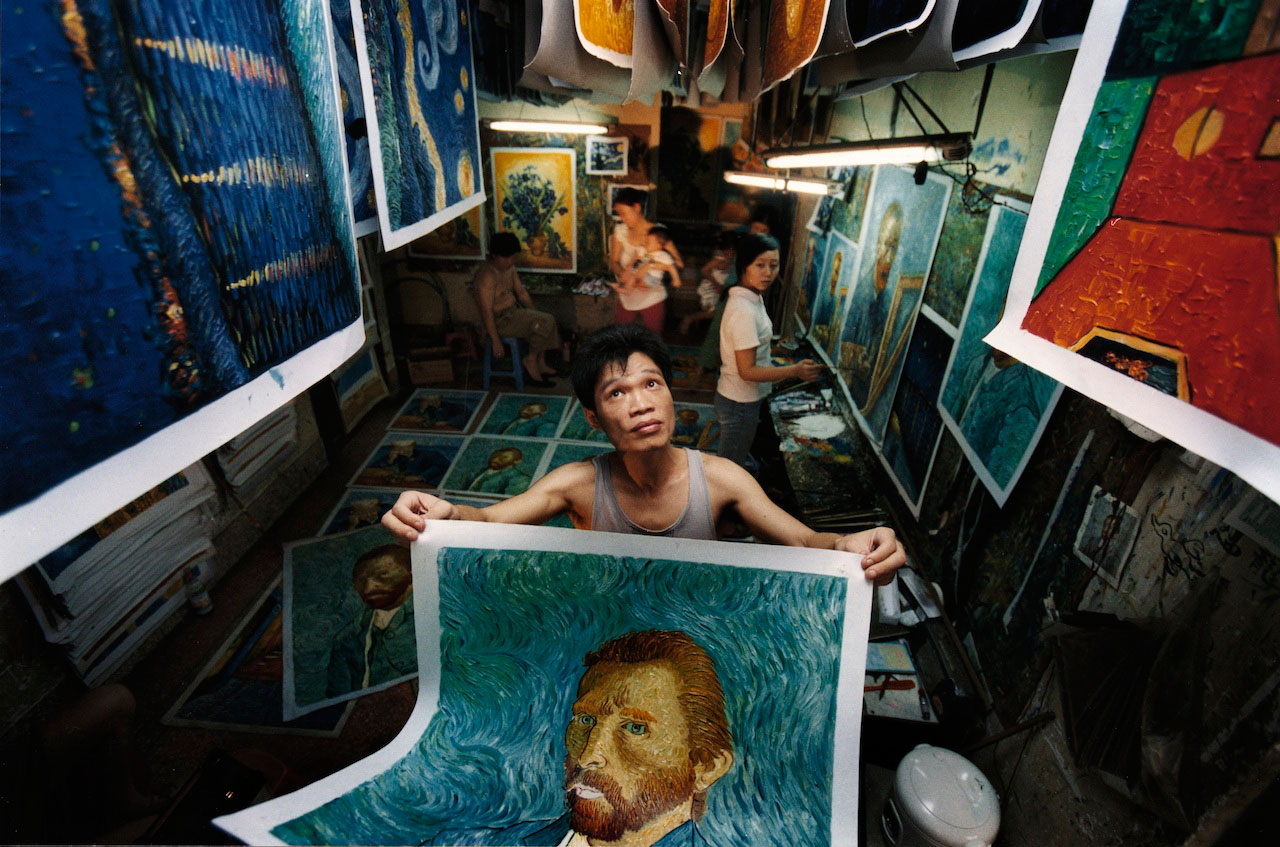 Subject:
Right to liberty
Discrimination
Labor Law
The citizen and the state
Human rights
Human dignity
Audience:
Lawyers
Students
Journalists
Activists / NGOs
Until 1989, the village of Dafen in the city of Shenzhen, China was little more than a hamlet. It now has a population of 10,000, including hundreds of peasants turned oil painters. In the many studios, and even in the alleyways, Dafen's painters turn out thousands of replicas of world-famous Western paintings. Nobody thinks anything of an order for 200 van Goghs. To meet their deadlines, painters sleep on the floor between clotheslines strung with masterpieces. In 2015, the turnover in painting sales was over $65 million. One of the painters, Zhao Xiaoyong and his family have painted around 100,000 van Goghs. After all these years, Zhao feels a deep affinity with van Gogh. He traveled to Europe to see the original works at the van Gogh Museum, and to visit one of his best clients, an Amsterdam art dealer.
director

Yu Haibo
Yu Haibo is a filmmaker and a well-known Chinese social photographer, the Chief Photo Editor of the Shenzhen Economic Daily and the Director of the Shenzhen Professional Photographers Association. His most prominent photo story, China Dafen Oil Painting Village, won the 49th World Press Photography Contest 2006, and was exhibited by the San Francisco Modern Art Museum. Yu Haibo received a BA in Photography from the University of Wuhan, China and is a pioneer in surrealism photography in China for his work 'On the other riverside of the illusion chain', which won the top prize at the 15th National Photography Exhibition in 1988. Since 1989, he has been working on documentary photography, and his photo stories including "Tibet", "Music Youth", and "China's urban expansion", have won many prizes and been exhibited internationally.
SELECTED FILMOGRAPHY
Selected: One Man's Shenzhen (2012)
Yu Tianqi Kiki
Yu Tianqi Kiki is a producer at Century Image Media Ltd. (China) and Associate Professor of Film and Screen Studies at Institute of Cultural and Creative Industry, based in Shanghai Jiao Tong University, China. Yu holds a BA in Film and TV Production, from the Westminster Film School, the University of Westminster, London, an MPhil in Sociology from the University of Cambridge, and a PhD in Documentary from the University of Westminster. She is the daughter of Yu Haibo.
SELECTED FILMOGRAPHY
Selected: Photographing Shenzhen (2007), Tube (2008), Memory of Home (2009)
If you wish to use the film-collection of Docudays UA International Human Rights Film Festival, we invite you to join the network of permanent Docudays UA educational film clubs on human rights