Audience Emancipated: The Struggle for the Emek Movie Theater
Director: Audience Emancipated: The Struggle for the Emek Movie Theater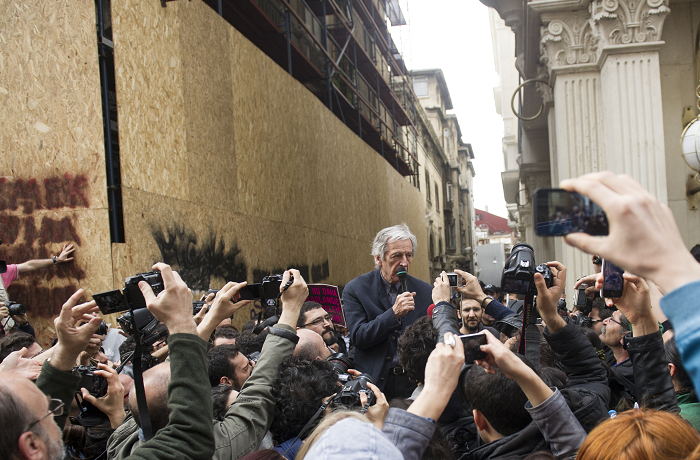 Subject:
Right to information
The citizen and the state
Discrimination
Human rights
Human dignity
Audience:
Activists / NGOs
Government officials
Journalists
Teachers
Students
Lawyers
Audience Emancipated
chronicles one of the most prominent struggles that took place in the heart of Istanbul and paved the way for the Gezi Resistance. It tells of the struggle around the Emek Theatre, which was demolished against the people's consent and their common good, and turned into a shopping mall, through the eyes of the activists and spectators. The film consists of footage which people who joined the struggle collected, and in this sense, aims to reflect the common imagination of the people who defended their right to the city. It carries the idea of the new public spirit that gained visibility with the Gezi Resistance through political mobilisation onto the cinema screen.
director

Emek Bizim İstanbul Bizim (Emek is Ours Istanbul is Ours)
Emek Bizim İstanbul Bizim (Emek is Ours Istanbul is Ours) is an initiative that was formed in 2010 to organise demonstrations and events against the demolition of the Emek Movie Theater in Beyoğlu, Istanbul. Since 2013, the initiative has collected video and sound recordings of the demonstrations made by activists and various filmmakers, which then turned into the documentary Audience Emancipated: The Struggle for the Emek Movie Theater.
SELECTED FILMOGRAPHY
Selected: Audience Emancipated: The Struggle for the Emek Movie Theater (2016)
If you wish to use the film-collection of Docudays UA International Human Rights Film Festival, we invite you to join the network of permanent Docudays UA educational film clubs on human rights