TEENAGERS FROM KREMENCHUK EDUCATIONAL COLONY WERE PONDERING OVER THEIR FUTURE IN DOCUDAYS UA FILM CLUB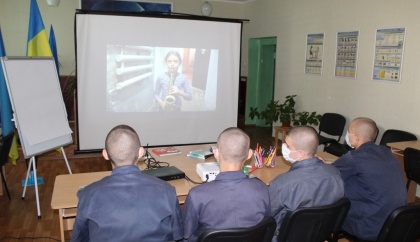 On August 4, 2020, a screening and following discussion of Roman Bondarchuk's documentary
Dixie Land
were held for the inmates of the state institution 'Kremenchuk Educational Colony' within the framework of the film club for media education in human rights Docudays UA.
6 August 2020
The film became a bright journey from childhood to the adult world for the Film Club participants. The documentary was shot in Kherson and its suburbs. During the screening, the inmates contemplated the Black Sea waves crashing against the pier under the bright sun and the blue sky. The Dixie Land Children's Orchestra performs a march. The teacher listens. It seems that happiness will last forever. Nevertheless, adulthood is inevitable. Suddenly it turns out that the teacher is mortal, and a friend has his life plans. Medals and orchestral instruments are sparkling in the sun, but every child has a destiny — with music or not. Every resident of Kherson knows this orchestra because it performs at almost every city festival. Dixielanders rehearse in the basement with dark green painted walls, dingy posters, a chessboard-like floor, crumpled wind instruments on hangers, and small windows under the ceiling.
After the screening, the guys made a projective drawing 'My Future': they described their families, their future work. They made a scheme for career building: higher education, ambitions, experience, diligence, teamwork, responsibility, sociability, skills development, honesty, etc. They considered the obstacles they may face after their release in the future and outlined constructive ways of overcoming the problems. They developed individual positive Programmes for their future: how it used to be, how it will be, what can calm the heart. They discussed the following: is a formal approach to life planning matters? What prevents you from realizing the possibilities and seeing the prospects? Is it possible to develop and maintain the interest around the topic of increasing professional value in the labor market under the current conditions? Together with psychologists, the young men tried to analyze the situation: what happens now, what can happen, and what they want to see in the future. "The young people witnessed the story of growing up, of purpose in life, which is important to follow," said the chief of the colony Alexander Saiko.
Text - Olena Udovytska.
Photo: from the archives of the state institution 'Kremenchuk Educational Colony.'
All news
If you wish to use the film-collection of Docudays UA International Human Rights Film Festival, we invite you to join the network of permanent Docudays UA educational film clubs on human rights